Scouts Dolphin Quest 1963/64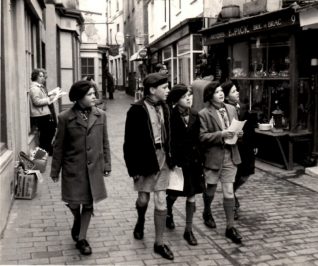 From the private collection of Dave Crockatt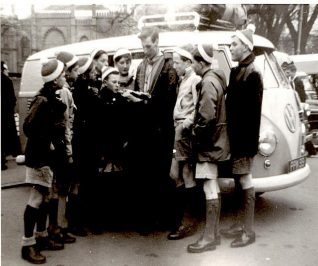 From the private collection of Dave Crockatt
19th Brighton(Kipling's Own) troop
The first photograph is of myself, holding a paper, and my patrol ( Eagle), taking part in the Dolphin Quest organised for all scouts in Brighton over the Easter holiday of 1963. The object was to collect information about Brighton from various clues and photographs. At the time I was in the 19th Brighton ( Kipling's Own) Troop. We had been formed earlier that year, I think, from the amalgamation of the 23rd Brighton ( Rottingdean) and the 49th Brighton troops.
The 23rd Brighton
The 23rd Brighton, which I belonged to, met in the church hall of the Church of the Holy Cross in Warren Road, Woodingdean, despite having 'Rottingdean' as part of our name. The newly formed 19th Troop met in the hall of the Rudyard Kipling School in Chalkland Rise. The troop leader was John Brookes and the Scoutmaster was Dave Billham.
Dolphin Quest in Holland
The second picture may again be of interest as it was really a consequence of the 1963 Dolphin Quest. It was decided that the Dolphin Quest of 1963 was such a success that a subsequent quest was organised the following year, 1964, but took place in Holland. Again it was held over the Easter holiday. The second photograph, outside the Royal Pavilion, the designated departure point, shows a group of which I am far left, with our leader Bryan Moody who was a leading light in the scout movement in the 1960s.
Were you a scout in the 1960s? Do you remember the Dolphin Quest? If you can share your memories, please post a comment below
Wearing our Brighton colours
We are all wearing uniform knitted woollen hats in Brighton colours of blue and white. All scouts in Brighton were invited to take part and most Brighton Troops sent representatives. Over in Holland we were based with a scout troop in the town of Bussum, not far from Amsterdam and all those taking part were awarded a miniature clog. I have still got mine.