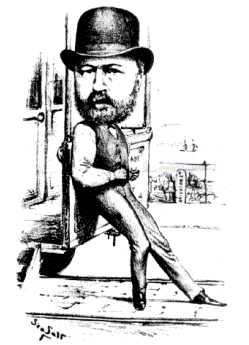 Image from the 'My Brighton' museum exhibit
Magnus Volk was a great inventor who was born in Western Road, Brighton in 1851. He was involved in inventing all sorts of peculiar items and activities. He was one of the first people in Brighton to light his house with electricity, for example.
The clocktower
Volk worked on the clocktower in 1887. He provided an hydraulically operated ball for the top of the clocktower that rose up a mast on the hour, every hour. When it got to the top it would drop to the bottom with a great clang. Unfortunately, it proved very unpopular with local residents, because of the noise.
Volks Electric Railway
What Magnus Volk is remembered for nowadays, of course, is the electric railway that he invented which still runs along the seafront today. This was inaugurated in November, 1883. Initially, it only ran a few hundred yards along the seafront, but it was soon extended and eventually reached as far as Banjo Groyne. It was the world's first publicly operated electic railway when it opened, and was quite a revolutionary idea.
Parts of the track ran on stilts
The railway you see today, of course, is rather different to what you would have seen back in the 1880s. In those days, parts of the track actually ran on stilts on the beach, ten to twenty feet up, so the journey must have been rather more thrilling. Into the 1930s you were still actually travelling over the waves at various points.
Daddy-Longlegs
In 1896, Magnus proposed extending his Volks Electric Railway to Rottingdean. The railway actually took passengers further out to sea, some 50-100 yards offshore, operating on stilts. It was nicknamed the Daddy-Longlegs at a fairly early stage, because of its rather ridiculous appearance.