One of the greatest of all Brightonians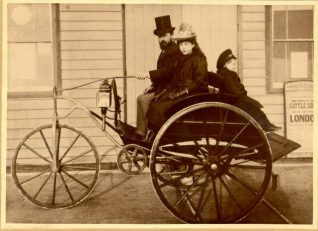 Please note that this text is an extract from a reference work written in 1990.  As a result, some of the content may not reflect recent research, changes and events.

A famous local inventor, one of the greatest of all Brightonians, Magnus Volk was born the son of a German immigrant clockmaker on 19 October 1851 at no.40 (then no.35 ) Western Road . The family had been at 51 Preston Street for two years when his father died in 1869, and Magnus then became an experimenter and inventor. In 1879 he married Anna Banfield and lived at 40 Preston Road ; they had seven children.
In about 1879 Volk established the first telephone link in Brighton, to his friend William Jago's house in nearby Springfield Road, and in 1880 fitted his own house with electric lights. The following year he opened a larger workshop at 25 Ditchling Rise , and demonstrated a fire-alarm which was connected to the police fire station at the Town Hall. After moving to 17 Gloucester Place in 1883, Volk used the Hammond Company's electric supply to light his new house and conceived the idea of a sea-front railway using his now redundant generator (see "Volk's Electric Railway"); he built only one other railway, a short-lived venture at Aston Hall near Birmingham. Volk also fitted the Royal Pavilion with electric lights in 1883, and the following year completed the illumination of the Dome, Corn Exchange , museum, art gallery , library , and Pavilion grounds.
By 1887 though, Volk was in debt and sold his house, renting 31 King's Road instead and moving to 71 Queen's Park Road the following year, having been declared bankrupt. In 1888 he built an electric car for H.M. Sultan Abdul Hamid of Turkey, to whom he also sold an electric launch in 1889. He then moved his family to Clapham, Halliford and Wandsworth, running electric launches on the Thames for a living before returning to Brighton in 1892. Volk took part in the Emancipation Day car rally in 1896, but in 1903 moved to Hassocks before finally residing at 128 Dyke Road from 1914 where a plaque has been erected to him.
Volk continued with his inventions, but made his last public appearance in May 1937 at the opening of his new Black Rock Station. He died on 20 May 1937 and was buried at St Wulfran's Church, Ovingdean.
Any numerical cross-references in the text above refer to resources in the Sources and Bibliography section of the Encyclopaedia of Brighton by Tim Carder.