Principal pioneer of cinematography, 1855 - 1921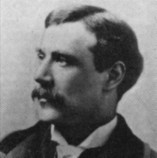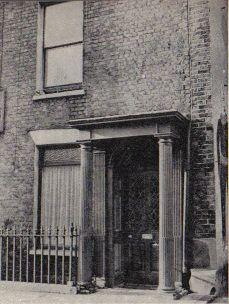 From the private collection of Peter Groves
It is surprising that the city of Brighton and Hove, which once had an unprecedented number of cinemas, is rarely connected with the invention of motion pictures. Furthermore, it's almost unknown by most people, that the principal pioneer of cinematography (motion pictures) once lived at number 20 Middle Street, Brighton.
Apprentice photographer at 14
William Friese-Greene (born William Greene) was born in Bristol in 1855. In 1869, at 14 years of age, he became an apprentice to a photographer named Maurice Guttenberg. He married Helena Friese on 24th March 1874, and modified his name to include her maiden name. In 1875 he set up his own studios in Bristol and Bath. His business expanded and new studios were soon opened in London and Middle Street, Brighton.
Experimented in 1887 with celluloid
Through business he came into contact with an instrument manufacturer, John Rudge. Rudge had begun to specialise in a 'Biophantic Magic Lantern'. This was unique, as it could display seven slides in quick succession which created the illusion of movement. Friese-Greene began to work with Rudge improving the instrument in order to project photographic plates. They called the enhanced device a 'Biophantascope'. With his expertise in still photography, Friese-Greene realised the limitations of glass plates. In 1885 he began to experiment with oiled paper and, by 1887, was experimenting with celluloid as a medium for 'motion picture' cameras.
'Chronophotographic' camera' in 1889
In 1889, Friese-Greene patented his 'chronophotographic' camera, which could take ten photographs per second, using celluloid film. Early one Sunday morning in January 1889, Friese-Greene took his new camera to Hyde Park and exposed 20 feet of film. His subjects were pedestrians, open-topped buses and hansom cabs with trotting horses. He developed the film later that evening and then projected it onto a small screen and became the first man to witness moving pictures! Low film rate and unreliability of the instrument resulted in limited interest.
Rising costs of experimentation
The cost of development became a drain on his finances and in 1891 he was declared bankrupt. Because of this, he sold the patent for his chronophotographic camera for £500. The patent renewal fee was never paid so the patent then lapsed in 1894. The Lumiere brothers patented their invention, 'Le Cinematographe' in 1895 and Thomas Edison is also widely credited as the inventor of cinema.
A prolific inventor
Between 1889 and 1921 Friese-Greene registered more than 70 other British patents. However, none of them were to become a basis of an industry in their own right. Working from Middle Street in Brighton he experimented with a system called 'Biocolour' in which alternate frames were stained red and green. He found it impossible to show Biocolour films because the inventor of a rival system known as 'Kinemacolor', Charles Urban, claimed Friese-Greene's film was an infringement of his patent. This was eventually overruled in 1914 when the House of Lords found in favour of Friese-Greene.
Died penniless
In 1921, Friese-Greene was attending a meeting in London to discuss the poor state of the British film industry. He stood up to speak but shortly became incoherent and was helped to his seat, where he slumped forward and died. He was found to have only a few pence in his pocket, the price of a cinema ticket at that time. On the hour of his funeral, all the cinemas in the country stopped their films and held a two-minute silence. On his gravestone in Highgate Cemetery he is described as 'The Inventor of Kinematography'. His former home in Brighton's Middle Street is now a hostel for backpackers.