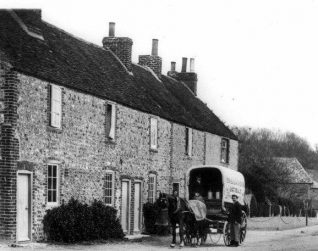 From the private collection of Miss Laurie Hollands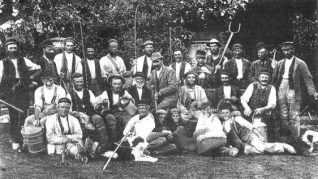 From the private collection of Miss Laurie Hollands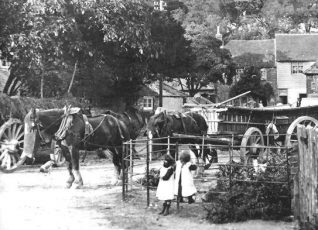 From the private collection of Miss Laurie Hollands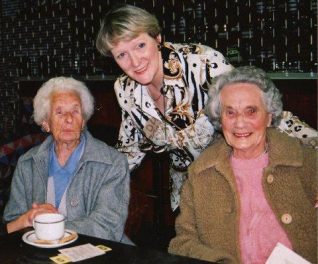 I interviewed Laurie Hollands in 2000, for an oral history project in Ovingdean village. The project formed part of the millennium celebrations in the village and subsequently a book was published containing extracts of the interviews. Laurie is the oldest village resident and the only person still living in Ovingdean who was actually born there: she will be 94 this year.
Excellent memory at 89 years old
At the time of our interview Laurie was almost 89 years old, but her memory was very good and her village reminiscences fascinating to listen to. Laurie's father worked for William Cowley at Grange Farm in Ovingdean and in 1911 she was born in one of the very small farm cottages. 'Peartree Cottages' so called because of the large tree which grew at the end of the terrace, belonged to the farm and housed some of the workers.
Peartree cottages c1800
It is impossible to date the cottages accurately, but they are on the 1839 map of the area and were probably built in the early 1800's. Unfortunately 'Peartree Cottages' were demolished in a road widening project in the early 1930's and so became just one more victim of the cult of the motor car!
Bungalow like a doll's house
Today Laurie still lives in the small bungalow that was built for her mother and herself in about 1932. It stands high on Ovingdean Road and commands the sort of view over the fields surrounding the village that is just beyond price. The bungalow is like a doll's house and as Laurie has not had any major refurbishment done it is almost as it was when she first moved in. Sitting talking to Laurie about the village as it was so many years ago, it felt as if I had been transported back in time.
Footnote: Sadly, Miss Laurie Hollands died in June 2006.  She was the last of the 'old village' community.  Although Laurie had humble beginnings, she was always a real 'lady'.  She kept her small bungalow as clean as a pin and when I visited her I was always treated to small homemade cakes and the best china.  To the end of her days she maintained the good manners and standards she had been taught at the beginning of the last century.  She is very much missed.
Jennifer Drury. August 2006
'In Living Memory: An Oral History of Ovingdean Village' edited by Jennifer Drury and published by Ovingdean Millennium Association, is available in Brighton Library.