Sports commentator (1923-1996)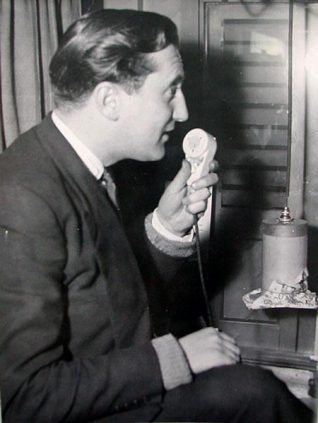 Photo from the private collection of Trevor Chepstow
Alan Frederick Weeks was born on September 8th 1923, the son of a master mariner. At sixteen he left Brighton, Hove & Sussex Grammar School to go to sea as a cadet in the Merchant Navy and two years later he transferred to the Royal Navy as a midshipman, serving in HMS Renown, HMS Rother and HMS Helmsdale.
Publicity manager in 1946
Demobilised as a lieutenant in April 1946, he became publicity manager at the Brighton Sports Stadium. Alan's talent for organising came to the fore at the rink where he helped Tom Arnold to organise publicity for the Ice Circuses that were a feature of the period. He was also secretary of the "Brighton Tigers Ice Hockey Club", which was recognised as one of the best in Europe at the time.
From 1951 a regular BBC commentator
Some three years after Alan Weeks took up his duties, Peter Dimmock, who was then the BBC television outside broadcasts producer, heard him making public address announcements at the rink and invited him to a test for a commentary position. (One of the first BBC outside TV broadcasts was from the Sports Stadium, Brighton).  The test took place during the second period of an ice hockey match and so well did Weeks perform that he was invited to broadcast live in the third period. From 1951 Alan was a regular sports commentator with the BBC.
With ice hockey on the wane and fading from the national consciousness (the Sports Stadium was demolished in 1965, taking Alan's job with it) but with his appetite for work, a unique capacity for mastering detail and an ability to get on with anyone, he soon found the world was his oyster in the field of commentating.
President of Brighton Tigers
He was a tireless worker in the field of sports administration from 1976 to 1983 and was director (and subsequently governor) of the Sports Aid Foundation, which helped many sportsmen and women in their early years. Alan was also a member of the British Ice Hockey Hall of Fame and of the Council of the British Ice Hockey Association. He was also president of the Brighton Tigers Ice Hockey Club., to mention but a few of his credentials.
An all rounder
Alan's career covered many years and many sports; he was as at ease commentating on football as he was ice skating, snooker or any other sport, whether it was on television or radio. Alan Weeks was married to Jane Huckle who he met though the Sports Stadium where she was head chorus girl appearing in many of the shows produced by Tom Arnold.