Legendary ice hockey player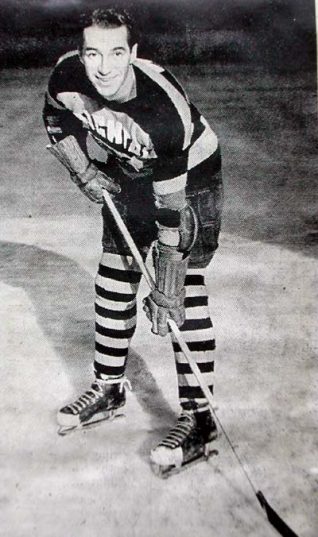 From the private collection of Trevor Chepstow
Bobby Lee was Brighton's greatest sportsman of the post war era. He breathed life into one of Britain's most successful ice hockey teams and became a legend in his own lifetime.
Born in Montreal
Born in Montreal, Bobby played hockey on the frozen rivers almost as soon as he could walk. His early career began as a left winger in the "Montreal Royals" in junior hockey and finally graduating to the senior team of "La Fontaine".
Signed to play in England in 1936
In 1936 the coach of the "Brighton Tigers", Don Penniston, approached Bobby, who was then in his early twenties, and signed him up to play in England. After one season with the "Tigers" Bobby was talent spotted and went on to play for Earls Court for the next two seasons.
Married in October 1939
It was during those early days in England that he met his wife to be (Billie) and he was married in the October of 1939. With the outbreak of the war they both went to Canada where Bobby joined the RCAF.
Took Brighton Tigers to victory
When Earls Court failed to open immediately after the war Bobby rejoined the "Tigers" as player-manager and moved to the position of centre-ice. Under his management he took the "Brighton Tigers" on to win all three major tournaments in the 1946-7 season and in the following years won International and World-wide fame for the team!
200 goals in ice hockey
Without doubt, Bobby Lee was the best centre-ice of all the Canadians who sought fame on British rinks. He was the first man in the history of British ice hockey to score 200 goals and in October 1952 the first player to score 400 goals. He played well into his forties in a sport where most men retired at twenty-five!
A real superstar
Bobby gave enjoyment to thousands who flocked to the Sports Stadium and Brighton's ice hockey public always had a special place in their hearts for this gentleman of ice hockey. If the word "Superstar" applied to anyone, Bobby Lee would have been the first to be crowned with this mantle!
In retirement became 'mine host'
After retiring in 1954 Bobby became 'mine host' at the Mile Oak Inn and later took over the Windmill Inn at Southwick. He died on New Year's Eve in 1974 after probably one of the most distinguished careers any man could have wished for in the world of ice hockey.