Cheerleader Charlie Connell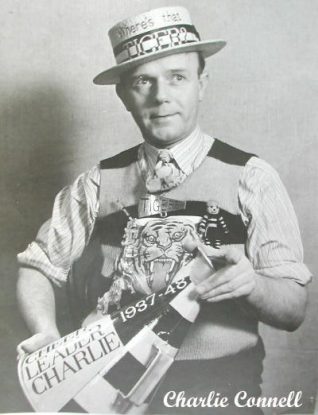 From the private collection of Trevor Chepstow
No ice hockey game at the Sports Stadium, West Street, Brighton would be complete without the presence of Charlie Connell, the Brighton Tigers Cheerleader!
Unmistakable outfit of black and yellow
When the Tigers started playing ice hockey again after World War II, they were fortunate in having one of the largest supporters clubs in the land. At the head of this was Charlie Connell in his familiar outfit of straw boater, megaphone and complete Tigers regalia in black and yellow!
Working the crowd to a frenzy
At the beginning of every match and throughout, Charlie would whip the home crowd into a mad frenzy, bellowing rousing chants through his megaphone to the delight of the supporters and the disdain of the visiting opposition supporters!  At the height of the match and hopefully when the Tigers were winning, he would get the crowd of over three thousand people to sing their club song, "Good old Sussex by the sea" and spur the team on to another victory. The crowd singing could be heard half way up West Street and told anyone on the street that the Tigers were winning again!
A very forward looking supporters club
The Tigers supporters club were one on the first groups in the UK to fly to an away match. In the late forties they chartered a plane (Dakota) from Shoreham airport and went along to support their team in the north (Nottingham) of England. Charlie of course was not far away and always there to add that "something special" for the small group of Tiger supporters at the away match!