Home to one of Britain's greatest champions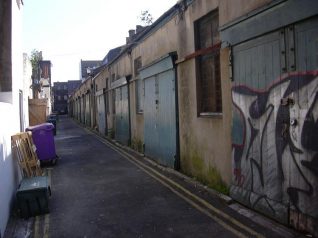 Behind the Dorset Arms in Gardner Street exists a narrow alley that is all that is left of what was once one of Brighton's poorest areas. Walking down this alley today and into the adjacent Pyms Gardens, you can take yourself back in time when this used to be home to fishermen with the alleyway strewn with the entrails of fish and the air putrid with the smells of rotting flesh and insufficient drainage. Nowadays Orange Row is all that is left of an area that once included Orange Row, Pym's Gardens, Thomas St and Pimlico and was home to one of Britain's greatest boxing champions, Tom Sayers.
Slum housing
Some of the worst housing in Brighton could be found here, an area that housed over a thousand inhabitants. Many of the houses were described as mere huts with small gardens in front. The inhabitants were mostly fisherman and it was not uncommon in the 1850's to see girls of 10-12 walking naked in front of the houses because of the poverty of their families. The gardens in front of the houses were full of the skins and intestines of fish. Yet rather extraordinarily the area was quite free from the diseases that other such areas suffered from. Perhaps this could be put down to the ventilation of the houses for with the many cracks in the houses, there was an abundant supply of fresh air.
Diseases a daily hazard
An area like Pimlico would have been full of animals in the yards because when farm labourers moved to the town, not being able to find work in the country, they would bring with them animals like pigs and chickens. It is no wonder that the area was infested with rats and that there were often epidemics of whooping cough, smallpox, scarlet fever. With rubbish in the streets, poor guttering, open cesspools and imperfect sewers, it was no wonder that such contagious diseases were a daily hazard.
Poor and cramped buildings
Writing in the 1840's Jenks maintained that Pym's Gardens was the worst of the three streets in the area. It was a very narrow, badly ventilated court lined with very poor, cramped buildings. When it rained many of the ground floors were flooded forcing many of the families to retreat upstairs if they could. The houses had little furniture and the residents often had to resort to sleeping on the floor. If they had beds the whole family might have to sleep top to tail together. When the town council began its first slum clearance scheme it was this area that was to be pulled down and replaced by what is now Tichborne Street.
A national hero
One man who survived the hazards of Orange Row to become a national hero was Tom Sayers. Tom was born in 1826 and brought up in the Pimlico area of the North Laine. He was a bricklayer by trade and worked on the London Road Viaduct, which was completed in 1846. By this time Tom had already turned to prize fighting. His first fight was broken up by police for prize fighting was illegal and fights were secretly organized, with venues being known only at the last moment.
First English boxer to fight internationally
Sayers was not a big man, in fact he was only 5ft 8 ins and 112-154 lbs and had to fight men who were generally much bigger than he. He was a skillful fighter who had a strong punch. He fought for the Middleweight title of England in 1853, losing but eventually triumphing in 1857. Sayers became the last English champion before the introduction of the Queensbury Rules when in 1857 he beat William Perry. He was also the first boxer to fight an international match when in 1860 he fought the American John Heenan. Sayers seemed to have the advantage when after 37 rounds and 2 hours twenty minutes of fighting the crowd broke into the ring and the fight was declared a draw. Sayers received a special Silver Championship Belt to commemorate the fight. He retired from the ring after this fight.
Retired in 1860
Following his retirement in May 1860 Sayers lived for just five more years, dying of diabetes on November 8th 1865 at the age of 39. Such was Tom's fame that when he died his burial at Highgate Cemetery was attended by ten thousand people.  In 1954 Sayers was elected to the ring Boxing Hall of Fame, making him perhaps the most famous of the inhabitants of this infamous area.