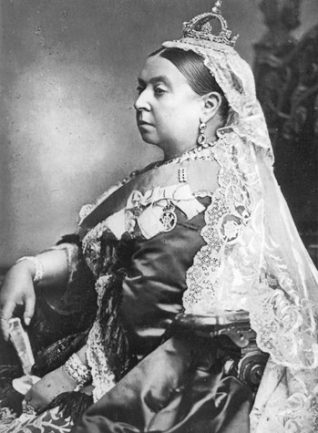 Image in the public domain
Please note that this text is an extract from a reference work written in 1990.  As a result, some of the content may not reflect recent research, changes and events.

Victoria 's first visit to the town as Queen was on 4 October 1837 when she was greeted by a floral arch at Preston Circus and an immense floral amphitheatre at the North Gate of the Royal Pavilion. Victoria was to stay in the town several more times. During her second visit from December 1838 the Queen visited the Kemp Town esplanades and enclosures, and in February 1842 she came with her new husband, Albert. The following year she landed at the Chain Pier from France, and visited Rottingdean and Kemp Town again before embarking for Belgium.
Unlike her two predecessors however, Victoria never took to Brighton and complained that 'the people are very indiscreet and troublesome here really, which makes the place quite like a prison'. Paying her last visit to the town in February 1845, the Queen used Osborne House on the Isle of Wight as her country retreat thereafter, and the Royal Pavilion. was subsequently closed and emptied.
Any numerical cross-references in the text above refer to resources in the Sources and Bibliography section of the Encyclopaedia of Brighton by Tim Carder.