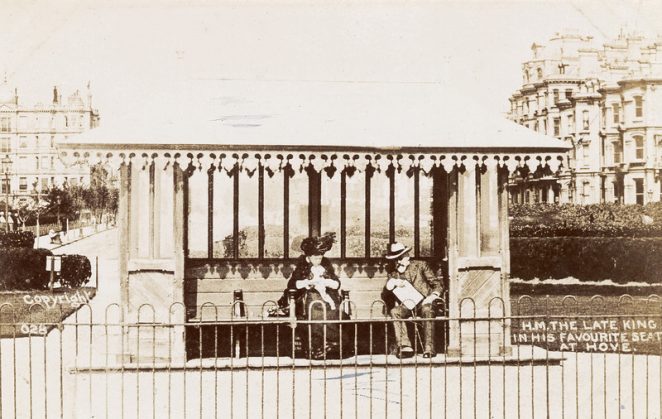 King Edward VII and Queen Alexandra relaxing on a bench at the southern end of Grand Parade, Hove. The bench was situated near the home of Arthur and Louise Sassoon in King's Gardens, and became one of Edward's favourite spots. After his death in 1910 it became a poignant, if unmarked, memorial.
Convalescing after illness
In February 1908 after a short illness, Edward VII convalesced in Brighton. He stayed for a week with his eldest daughter, Princess Louise, Duchess of Fife, at her home at 1 Lewes Crescent. Every day during his February visit the King was driven to lunch with his friend Arthur Sassoon, who lived at 8 Kings Gardens Hove in a state of extreme splendour attended by forty servants.
A glimpse of the King
The committee of the Kemp Town Enclosures asked the estate's residents to give over for the King's exclusive use, the gardens and the terrace onto the sea front which was at that time private to the estate. While many of the residents were able to see the King from first floor drawing rooms overlooking the gardens, the local people were not so fortunate and crowds came out from the town to catch a glimpse of the King coming and going from Lewes Crescent or walking in the gardens.
A resident's comment
The event is captured in a letter from No.22 Lewes Crescent at the time. Charles Cayzer writes to his father, a shipping magnate with headquarters in Glasgow.
14th February 1908 
"We have had the King down here all this week. He spends most of his time in the gardens in front of us, which we, the residents, have placed at his disposal. It is a good thing for Brighton, and all the hotels and full, but we get ghastly crowds up our end all day long, staring for a glimpse of His Majesty."
The King's chauffeur remembers
In a memoire, Edward VII's chauffeur recalled, "While His Majesty was staying at Kemp Town, the parade in the vicinity of Lewes Crescent, usually more or less deserted, was swarming with people all the day long. Persons who had resided in Brighton for years and had never before dreamed of patronising the Kemp Town Esplanade, began to spend all their spare time strolling about there. Those whose joy it had been to ruffle it with the smartest under the shadow of the Metropole, amid the rush of the King's Road and the bustle of the Brighton promenade, haunted instead the dull, quiet lees of Kemp Town. In short, the place became a fashionable rendezvous. As long as the people walked ordinarily up and down, there was nothing to complain of, but the police had great trouble with those who simply loitered about in the hope of seeing the King. Of these there were a great many, and the seats, which were usually empty, were crowded from morning till night. Here elderly ladies would sit unblushingly for hours at a time, waiting for His Majesty to leave or return to the house, and the Chief Constable of Brighton was really at a loss to know how to deal with this abuse of the benches. Suddenly he hit upon the idea of having them freshly painted every morning, and the discomfiture of their habituees, when they arrived in good time to find  their particular quarters unavailable, was most entertaining."