The Curtain Club: exciting and secret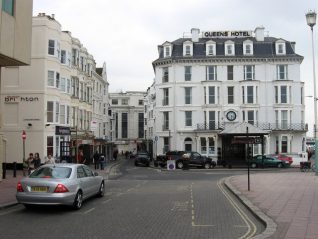 © Simon Carey: Creative Commons Licence.
Exciting and secret
I moved to Brighton in 1978 aged 19, and was taken to 'The Curtain Club' after a month or so. There was something exciting and secretive about standing on the steps down to the entrance and having a vague sense you might not be let in. Once you were, the smell of aftershave, alcohol and poppers made you high on happiness.
Fantastic music
Though the club was small, there were enough areas for those who were loud or quiet; old and young; drag and clones. I was thrown out twice; if you met me you would find this difficult to believe, but it was all part of the fun. And the music, it was fantastic. The great disco hits were of course very popular, but the best was dancing to all the latest tracks before you heard them elsewhere. 
Have memories of The Curtain? Please share by posting below
'Dancing David'
How could I forget 'Dancing David' with his perfect wedge haircut in the corner, showing us how it should be done. Rob and Drew looking gorgeous, and so many other gorgeous boys and so many who didn't make it through, especially Chas and Gary my special friends. Too many who died, who made that time so amazing, but I'm sure they'd all remember The Curtain Club with affection.