History of the Isetta factory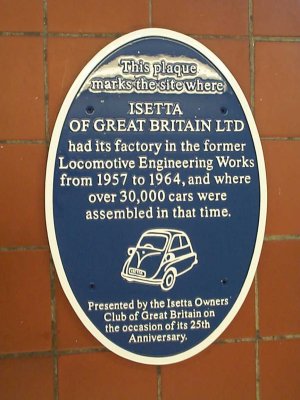 As a committee member for the Isetta Owners Club of Great Britain, and an owner of a BMW Isetta 300, I always think fondly of Brighton.
The Isetta was a small one door car, designed in Italy by a company called "Iso". Isetta means 'little Iso'. BMW bought the rights to this car from Iso and, using their existing motorbike technology, re-engineered the car so that it had, initially a 247cc 4 stroke air cooled engined, and then later a 297cc engine.
Here comes the bubble car
In March 1957 the Southern Locomotive works on New England Street finished its last railway job and, 6 weeks later, re-opened to assemble Isetta's, employing 200 local Brighton workers, most of whom had worked in the locomotive works on the railway vehicles.
As the factory had no road access, all the parts had to be brought in by railway, and the assembled vehicles had to be sent out by the same method. At the height of production 300 cars a week were made which averaged out at one and a half per person.
End of the factory
The Isetta factory made its last vehicle in 1964, the Isetta having been made extinct by the BMC mini, and the bubble car era came to an end.
More recently, the factory was demolished and the site became a 900 capacity car park. This closed in the 1990's and the space, the largest derelict area in Brighton, is soon to be developed into the New England Square.
The Isetta Owners Club of great Britain presented a plaque to the site commemorating 50 years of the car on June 14th, 2003. The plaque was unveiled by Mr Leonard White, a former worker at the factory.