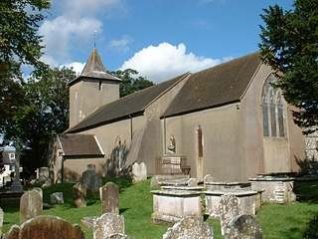 Query:
from Matthew Buckwell, IT Consultant
"Please include All Saints Church in Patcham on the website. This place seems to have a lot of history and appears in the Domesday book. Therefore it could be quite interesting to investigate it. I'd also like to know about the link with Daniel Scales and smuggling in the area."
sent to site by e-mail 10 July 2002
Response:
by William Maskell, Patcham editor
All Saints Church stands on a hill overlooking the village. With most of the flint and dressed stone walls cement rendered, dating from the exterior is almost impossible. The 12th century dating of the nave indicates that this is the oldest part of the church. Access to the nave is gained via the 14th century south porch and doorway. The chancel arch, over which a 13th century painting of the Last Judgement was discovered in 1879, is 13th century: as is the turret spired tower. The vestry and north aisle was added in 1898. Within the confines of the church are the vaults and memorials of the families who owned Patcham.
Memorial to a smuggler
A stone, close to the wall, of the north aisle reveals a certain reverence for the smugglers of that time.
Sacred To The Memory
Of
Daniel Skales aged 34 years who was unfortunately
shot on Thursday evening Nov 17th 1796
Alas! swift flew the fatal lead,
Which pierced through the young man's head.
He instant fell, resigned his breath,
And closed his languid ey es in death.
From this sad instance may we all
Prepare to meet Jehovah's call.
The real story of Daniel Skales
"The real storey of his death is this. Daniel Skales was a desperate smuggler and one night he, with many more, was coming from Brighton, heavily laden, when the excise officers and soldiers fell in with them. The smugglers fled in all directions; a riding officer, as they were called, met this man, and called upon him to surrender his booty, which he refused to do. The officer, to use the words of the editor's informant, a very respectable man and neighbour, who in his early life was much engaged in such transactions, knew that "he was to good a man for him", for they had tried it out before; so he shot Daniel through the head."
Source: Blencowe R..W. Esq. "Extracts from the Journal of Walter Gale, Schoolmaster at Mayfield 1750"
Sussex Archaeological Collection 9, page 195