An interview with Pat Norman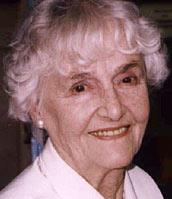 Photo by Sara Kirkpatrick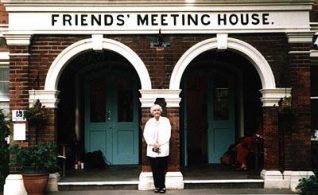 Photo by Sara Kirkpatrick
The foundations of the Friends' Centre were built in 1804-5 on land owned by a local Quaker named John Glaisyer. Extensions to the Meeting House and cottage took place in 1850 and again in 1876 when the Adult School was built, and adult education classes on a wide variety of subjects have been held there ever since. Current courses (2005) cover subjects as diverse as poetry, IT, singing, languages and yoga.
Pat Norman, a former Principal at the Centre, explains more about its history:
Origins
"The adult school was gradually dying out, and the idea was that the Meeting House should find a new role for itself in post-war Brighton when there was so much building of bridges and mending of psyches to be done. Several Friends came up with the idea of forming an adult education centre, and one of the Friends – Frank Sainty – called it a 'People's University'. I was privileged to know him for a while before he died, and he was very much a live-wire.
"Anyway, the Friends locally engaged Geoffrey and Margery Sedgwick to set up a pilot, and they actually lived on the premises in some rooms upstairs. They ran some pilot courses in the summer, and it was then opened to the public in September 1945."
Margery and Geoffrey Sedgwick
Margery wrote in the anthology published to celebrate the 40th anniversary of the Friends' Centre: 'It was a wonderful time to be starting something new, those months towards the end of the War…we had a vision which evolved step by step into a plan for a 'centre'. It was to be open to everyone – people of all ages, nationalities, religions, occupations – and in it we would learn from each other.'
Margery and Geoffrey were Joint Wardens from 1945 until 1957, then Margery continued until her retirement in 1973.
Pat gets involved
Pat continues: "I didn't come on the scene until 1954, when the Centre was already 9 years old. I came as a student for a short course on interior design and I became very interested in the Centre. I was working full-time elsewhere, but I joined this class and got interested in whether I could help and was asked if I could look after the office – at that time we were still using volunteers as there wasn't an awful lot of money around. And eventually I became a member of staff as voluntary secretary and then full-time secretary – I was taken on for 3 months, and stayed for 42 years! I was the Principal for 10 years, from 1986 to 1996, when I retired."
Funding for the courses
Initially, some lecturers gave their services free of charge. Help in the early days came from the Oxford Extramural Delegacy of Oxford University who provided speakers from fields such as the arts, history, politics and music. After Oxford University, help, advice and financial support came from the Centre for Continuing Education (CCE) at Sussex University. Other courses were subsidised by the LEA and East Sussex County Council.
Adult literacy
During the early 1970s the Centre changed direction, and moved into the field of adult literacy provision. A volunteer scheme in 1973, that worked with students on a one-to-one basis, developed into more formal courses with professional teachers. Provision for adult literacy, numeracy and English for Speakers of Other Languages (ESOL) increased, and over recent years the Centre has done a lot of work with asylum seekers and refugees. There is also a lot of outreach work done in the adult essential skills and ESOL field, in community centers and other buildings that enable the classes to reach learners where they are.
Over the years the Centre has had funding and support from a variety of bodies. Current sources include the Basic Skills Agency, the European Social Fund and the Learning and Skills Council. As an educational charity they are also regulated by the Charity Commission, and the Friends Centre is a registered company.
The Quakers
"The Quakers themselves have had a tremendous input in allowing the building to be used free of charge. Quakers have the reputation of being involved in education because for a while there were various trades or jobs that weren't available to them, they were considered a bit of a 'bad lot' during their day. They get a very different press nowadays because they have been involved in so many good and humanitarian movements. The fact that Friends had the wisdom to foresee a place like this which is celebrating its 60th anniversary next year is pretty good!"
A peaceful place
The building itself is set back from the street, and has well-kept gardens that are used by the public. A number of events such as Fair Trade markets and fundraising activities take place regularly. Pat continues: "I must say that the Centre itself has become a very much-loved place. I think it's because it's been a place of worship for nearly 200 years, and this has made quite a difference to the atmosphere – it's sort of peaceful and yet creative, and it can be lively, and exciting and buzzing and so on. That's the ambience that we wanted to create and it's still there.
Diversity of the people
"There does seem to be a very good rapport between the student groups. At the end of term, the language students of different nationalities will all come together, and everybody provides a dish from their own country, and they have a little party and sing and dance – if there's enough space! And I think that's one of the things we want to celebrate, the diversity of people, all the different backgrounds, and the fact that we can all learn so much about each other just by being here together."
Bicentenary
Next year (2006) marks the bi-centenary of the founding of the Meeting House, and the 60th birthday of the Friends' Centre. Pat says: "I've no doubt that we shall come up with something interesting to celebrate our past and look to our future!"