Heritage Lottery Fund grant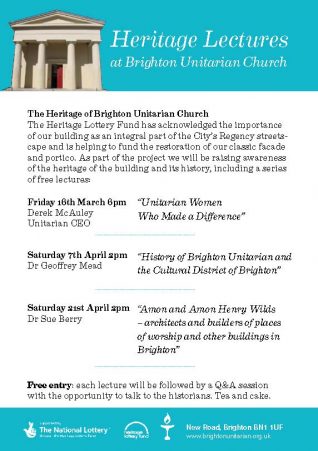 Successful lottery bid
As a result of a successful bid to the Heritage Lottery Fund funds for help to restore their portico, the Brighton Unitarian Church in New Road will soon begin a programme of building restoration. Alongside the building work, they have a schedule of events to help raise awareness of the building, its heritage and place in the community.The lottery funding also requires evidence of increased volunteer participation in all the activities that they undertake. If you would like to know more about volunteer opportunities you can email buc@brightonunitarian.org.uk
BUC Built in 1820
The BrightonUnitarianChurch in New Road, was built in 1820 on land purchased from the then Prince of Wales, later George IV. When the Prince sold the land he owned west of New Road, the congregation paid £650 for a plot on which a new chapel could be built. The architect was a young Amon Henry Wilds, whose career in Brighton was just beginning; his design is a stuccoed, temple-style building. The church was listed at Grade II in October 1952.
A prominent position 
The tetrastyle portico of the Brighton Unitarian Church, with its four Doric columns surmounted by an entablature and pediment, is a well known Greek Revival building which occupies a prominent position in the centre of Brighton. The first minister of the Church was Dr Morell, a well-known classical scholar; due, in a large extent to his influence, its design was inspired by the ancient Temple of Theseus in Athens.
Events schedule
You can find out more about the full and varied schedule of events, read about them here.