The Prince and the Pillars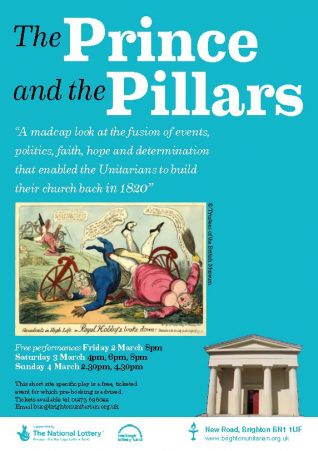 Reproduced with kind permission of The Unitarian Church
The Unitarian Church: New Road
A madcap look at the fusion of events, politics, faith, hope and determination that enable the Unitarians to build their church back in 1820.
The drama takes small audiences on a colourful and light-hearted journey back to a time when our iconic (but now in need of TLC) portico was just a dream, a sketch on paper, and the land it now stands on was a veggie plot.  To a heyday for a rapidly expanding Brighton where Royal visitors practically rubbed shoulders with fisherfolk on the Steyne.  A time when the French Revolution sent ripples of insurrection across the English Channel.  When the quest for emancipation sparked a new idealism in the breast of the Common Man.
Audiences will wander alongside the ghosts of the Unitarian Church's radical founders, with those who helped them on their way: the Prince Regent, his ladies and the Theatre Royal. A joyful community theatre event with live music and hidden histories of an iconic building at the heart of Brighton's community.
The event will be accompanied by a post-show photography exhibition and sound installation drawing on archives of New Road and its buildings through history.
Friday 2nd March              – one performance at 8pm
Saturday 3rd March          – three performances at 4pm, 6pm and 8pm
Sunday 4th March             -two performances at 2.30pm and 4.30pm
Click on the poster to open a larger version in a new window
---
Tickets are free but pre-booking is advised.  To make a booking please contact Brighton Unitarian Church on 01273 696022 orEmail buc@brightonunitarian.org.uk