Formerly St John the Evangelist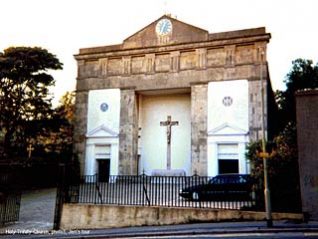 This church, formerly St John the Evangelist, is on the north side of Carlton Hill. It was built in the classical style by George Cheesman for the Reverend Henry Wagner, the Vicar of Brighton from 1824-1870. It opened in 1840.
At the time Carlton Hill, behind the East Cliff, was a deprived area of town with some of the poorest quality housing. Needless to say the church was not a success. Few people could afford even the cheapest of pew rents and there were 10 public houses or gin shops and 23 beer shops which proved more enticing to the parishioners.
The church which seats 1,200 worshippers and has large galleries, was declared redundant in 1980. There were plans to convert it into a detoxification centre but these were rejected following a public enquiry and it remained closed until March 1986 when it was taken over by the Greek community.