'London Road Church' 1876 - 1894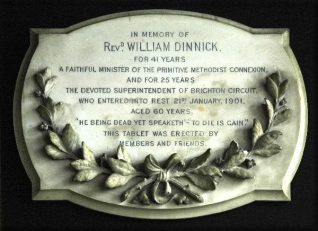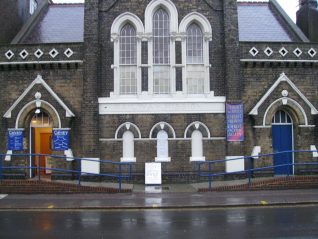 The latter half of the 1870's saw a great upsurge in the Primitive Methodist cause in Sussex, particularly in the Brighton and Hove area, due almost entirely to the stationing in the towns of members of the Dinnick  family – namely John Dunn, Benjamin, Timothy and William, all Primitive Methodist ministers. William Dinnick was perhaps the most outstanding and the finest church 'builder' of them all.
Development of new churches
While on deputation in Brighton in 1875 during the indisposition of his brother Benjamin, he had evidently seen the prospects for the development of new churches, and with this in mind had secured land at the corner of Viaduct Road and London Road for the sum of £295. However, owing to local opposition, it was not possible to proceed with the work there for some 9 months and it was only when he was stationed in Brighton by the General Missionary Committee in January 1876 that the matter was resolved and sanction given for the commencement of building.
The right man for the venture
Being a man of indomitable will and driving energy, and having already built some 13 or 14 churches in other parts of southern England, he was obviously the right man for the venture. Indeed, when the Primitive Methodists in the area heard of his appointment they recorded their very great pleasure and wrote to assure the Committee to say that they would 'hail his coming' and give him every opportunity to work out his own plans.
Difficult beginnings
Yet the beginnings were anything but favourable. To the Conference of March 1876 he reported 4 members only, all of his own household, and his first Quarterly Meeting consisted of just his wife Mary and himself. In fact, his son said in later years that his father's first congregation consisted of 5 small boys under an umbrella one wet Sunday afternoon on the piece of land which had been earmarked for the new church.
However, William Dinnick was not a man to be thwarted, and with great faith he went ahead with the formation of a body of Trustees, appealing to his many friends and well-wishers for support. The Trustees were as follows:-
John Smith                             Carrier                         Local Preacher
George Miles                          Gardener                      Local Preacher
Stephen Lipscombe                 Tailor                           Local Preacher
William Wheatley Noble           Butcher                        Local Preacher
Josiah Mace                            Labourer                      Local Preacher
William Brown                        Engine Driver                Local Preacher
Initial funding
The first meeting of the Trust took place on 27th April 1876 when a letter was read from the District Building Committee giving sanction to the project which had been costed at some £1500, but at the same time, requesting an alteration to the plans. This caused the meeting some concern as they feared that this change would increase the costs to perhaps £1700. However, a quotation for the erection of the building from a Mr. Barnes for £1276.12s.6d. (not including gas fittings) was then discussed and accepted without further ado.
Great confidence in William Dinnick
A date was fixed for the initial stone-laying on May 1st and it was proposed that this should be followed by a 'Grand 9d. Tea' at the Royal Pavilion the entire affair to be left in the hands of Rev. William Dinnick together with securing the speakers and arranging the tea itself. He was also asked to sign the contract for the new church, the Minutes naively stating 'he being so much more experienced in these matters than ourselves'! Such was their confidence in this amazing man.
Mortages and donations
As far as finances were concerned, a mortgage was to be obtained from a Mr. Lucas of Brighton for £700, £300 from Septre Life Office in London and other donations to be sought by advertisements and personal letter. A large number of booklets and leaflets were distributed and the success of this venture was evident from the response from as far afield as Cardiff, Newcastle, Southend, Aldershot and Ramsgate.
Foundation stones laid
Several amounts of money were placed upon the stones on May 1st including £45.18s.6d. from the sale of an old chapel in Cavendish Street, Brighton, 5 shillings from a 'servant girl' and £20 being surplus from a grant made to Brighton for special mission work in the area. By the end of the day some £400 had been received in cash. The first stone was laid by Williams Dinnick's 9-year-old daughter Florence Annie and the other by Mr. G.F. Tippett.
Opening services and a grand tea
On Monday 19th June, further stone laying for the church itself took place when additional substantial amounts of money were put on the stones including gifts from Mrs. S.E. Bond (in memory of Rev. Bond) and Mr. G.F. Tippett, a local Congregationalist. Although the Sunday School building was by no means finished and had few windows and doors, opening services were conducted on Sunday 6th August with a grand tea and meeting the next day at which some 220 children were present. It was necessary on this occasion to hire crockery (at 3/5d.) and to buy tablecloths (14/6d), other expenses amounting to £2.7s.6d.
In a few short weeks the church itself was ready and opening services were held on Saturday 16th and Sunday 17th September at which the total sum to date of £1425 was counted with much rejoicing. In fact, monies were still coming in up to Christmas for the work.
The church seated some 350 persons with services on a Sunday at 11am and 6.30pm, and Sunday School at 9.45am and 2.30pm.
In 1894 the congregation moved to larger premises in London Road and the Viduct Road building was sold to the Brighton Railway Mission whose successor congregation, Calvary Evangelical Church, continues to this day