A brief history of St Bartholomew's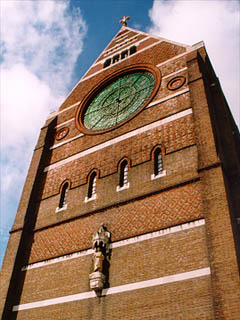 One cannot fail to be impressed by the sheer size of this building, the only nineteenth century building remaining between London Road and the station. It is 52m (170ft) long, 18m (59ft) wide and 44m (144ft) to the top of the gilt cross making it the tallest parish church in the British Isles.
It was built by the Rev. Arthur Douglas Wagner, an extremely wealthy 'Anglo- Catholic' and curate of St Paul's church in West Street. The foundation stone was laid on the 8th February 1872 and the first service was held on the 8th September 1874.
Designed by the architect Edmund Scott and built of brick, it overshadowed the surrounding small streets as Wagner planned it should. Today it remains high church and hosts classical music concerts.