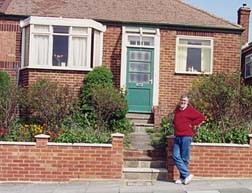 Photo from the private collection of Terry Walls
Spencer Avenue in the 1950's
"I do not have that many memories of being a child in Sussex although there are some things that stick in my mind. I was just a little over six years old when we left England for Australia – well to be exact 6 years and 2 months and 19 days. My brother Rob was nine and my younger bother Andrew was three. Rob of course remembers a lot more and Andrew almost nothing.
One of the things that I do remember is living in Spencer Avenue which in 1950 was a new housing estate. There were no houses then on the other side of the road and a short distance away was this old church which my mother used to tell me was over 900 years old. Now when one is 5 years old, 900 is an enormous number – older than your grandad even.
It is called St Helen's. It is thought that Helen was a Briton who married a Roman and became mother of Constantine the Great – the first Christian Caesar. There is a site of a Roman villa only a kilometre away.
Rise and fall of the Church
The church itself is reported to have been originally built by Anglo-Saxons in the 10th or 11th Centuries (pre-Norman of course). It is built of flint and tile. As is often the case with the Anglo-Saxon churches in Sussex, the original church became the nave of a Norman church, in the 13th Century the tower was added, in the 14th Century the chancel with tri-foiled lancets and the east window were also added. The church was part of a village that included Hangleton Manor, with the manor being built in 1540 from stones taken from Lewes priory that was demolished in 1537.
A pictorial history of Hove provides this caption to an old print: "St Helen's Church stands a little way off from the settlement around the manor, but once a thriving village clustered by the church. Fire and Black Death have been suggested as the causes for the decline in population, but the young men may have just left to find work elsewhere. Whatever the reasons, the church fell into disrepair I have read in another book about the "hidden villages" of England that Hangleton disappeared after it became no longer viable in the 17th Century following the large-scale enclosure of land.
Restoration and the ghost
Despite this, the church survived and was eventually restored in 1876. A small spire was added to the typically Norman tower to keep out the weather. When I returned to the UK for the first time in over 40 years in 1992 you could just see the spire over the tops of the housing estate which has now been built right up to it.
Why this church was so imprinted on my mind and why I needed to go back and see it was because of THE GHOST. As I mentioned earlier, St Helen's (Hangleton) Church was just across the road from Spencer Avenue. This Norman Church has an old graveyard with only a handful of graves in it. One wintry afternoon as it was getting dark (about 4pm) someone suggested that if you went into graveyard and poured water over a grave you could "conjure up a ghost". Now this didn't really appeal to me but I went along reluctantly. Someone had obtained a small jar of water and our small team of 6-9 year olds ran around the graveyard calling out and pouring water over the graves.
Nothing seemed to happen so we adjourned to climb onto a small haystack in the field next door.
All of a sudden someone called out "ghost; a ghost!" At this stage and in a state of absolute panic, we all saw a whitish shadow of a figure emerge above the largest of the graves. Four or five boys screamed and abandoned the haystack faster than one could say – "aaaaghh". We all stampeded back to our houses and I remember sitting on the floor of the sitting room with my back to the wall (for safety) absolutely breathless. My concern was dissipated fairly quickly by the commencement of an episode of "Dick Tracy" on the radio (or wireless as Mum would have described it).
About a year or two after we were settled in Sydney I remember my mother telling me that when they came develop the land opposite, the builders found a skeleton under the ground in a shallow grave. She believed it to be a murder victim but just maybe it was an extension of the ancient graveyard. Now I must get to the bottom of this! "