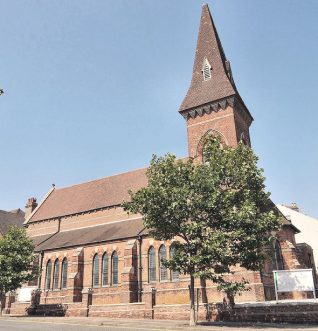 In May 1925, a local newspaper report announced the forthcoming 50th anniversary of St Luke's church. It reminded readers that,
'Old residents of Prestonville take their memories back to days when the site of St Luke's Church was a nursery where Mr Smyth grew choice plants and flowers for the gentry of Brighton.'
Built on the site of old iron church
The church of St Luke's Prestonville was erected on the site of an earlier temporary iron church, which was built and burnt down in November 1871. A second temporary church was built in February 1872. The permanent church was largely completed in 1873 but remained unused for several years during changes in ownership. An old church committee minute book records that on the 29th March 1875, an agreement had been entered into, to buy the church for £1,500.
Built in Gothic style
St Luke's was built to a design by architect John Hill, of red brick with stone and stucco dressings in a Gothic style. The building consisted of a chancel, a nave of four bays, aisles, and a square tower with a short slated spire on the south-eastern corner. The tower houses a clock and one bell. Later additions were made in 1882 by J.G. Gibbins at a cost of £1,773.
First vicar The Rev Hewitt
The living of St Luke's was a perpetual curacy, with income derived from pew rents and offertories, the gift of the Bishop of the diocese, Vicar of Preston, John Deacon, Esq., George C. Courthorpe, Esq. and B.B. Reed, Esq. The first vicar was The Rev George Hewitt who began his ministry on the 11th June 1875, when the church was opened for divine service and the sermon was preached by the Bishop of Chichester.
Consecrated in 1877
On the 3rd April 1877, the church was consecrated and The Rev George Hewitt was admitted to the incumbency on 7th April 1877. With the extension of the urban area into Preston, new ecclesiastical arrangements became necessary. As a result of local petitioning and following the resignation of the Rev. Walter Kelly, who had been vicar of Preston for 44 years, on 26th February 1878, St. Luke's became an ecclesiastical parish church.