Memories of a grand old lady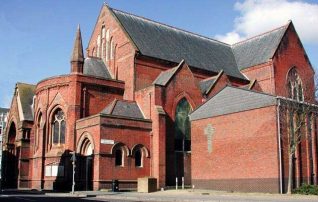 From a private collection
I would just like to tell you about a grand old lady of Brighton who died recently on 22nd May [2003], just 3 months from her 100th birthday.
She wrote an article in a booklet about her life in George Street, Brighton. She was Mabel Beatrice Franchi, a well loved member of St. Mary's Church in St. James's Street, Brighton.
I attended her wonderful funeral on 3rd June [2003] and was horrified to hear that there may be plans to close down St. Mary's Church and sell it to developers. I sincerely hope the rumour is not true.
My old home opposite the church is a disgrace now, dirty and unkempt. The shop front has been bricked up and two small windows inserted and the front door looks like it could do with a coat of paint. I remember how my Gran always had the outside painted every three years or so and the windows sparkled. The wrought iron balconies were bright with red geraniums. I was ashamed of the place now, but it is a sorry sign of the times some 40 years on after my family left.