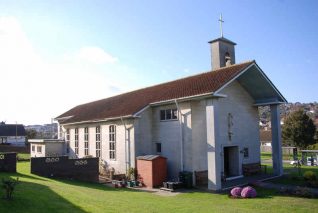 Please note that this text is an extract from a reference work written in 1990.  As a result, some of the content may not reflect recent research, changes and events.
d) SALTDEAN CHURCH: St Nicholas's Church in Saltdean Vale was designed by Edward Maude and was dedicated by the Bishop of Chichester on 8 May 1965. Constructed in a grey stone with a tall tower, it was erected following a fund-raising campaign and replaced a temporary church of 1951 which is now the church hall. St Nicholas's was consecrated as Saltdean parish church in December 1970.
Any numerical cross-references in the text above refer to resources in the Sources and Bibliography section of the Encyclopaedia of Brighton by Tim Carder.