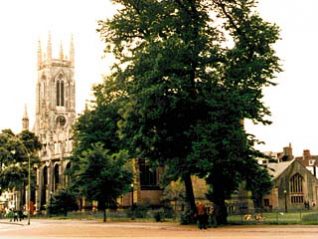 Image from the 1994 'My Brighton' museum exhibit
St Peter's Church was built as a result of a competition in 1824 to design a new chapel on the Steine.  There was an acute shortage of churches at the time. Six years earlier there had been only two Brighton churches for 18,000 inhabitants!
St Peter's was built of Portland stone in the Perpendicular Gothic style. Its tower was designed to provide an impressive end-piece at the north of the Steine.
In 1873 St Peter's became the Parish Church of Brighton. The church hall next to it was built in 1927 as a memorial to those killed in the First World War.
The history notes above come from the original 'My Brighton' exhibit
St Peter's church was built in 1824-28 as a chapel of ease to St Nicholas. It was designed in the gothic revival style by Charles Barry (later to be the architect of the Houses of Parliament) who had won the design competition.
In 1873 it became the parish church of Brighton replacing St Nicholas, when due to expansion the town was divided into several district parishes.
Built of Portland stone, it has not weathered well and now requires extensive and expensive renovation. A chancel by George Somers Clarke was added in 1906. Built of sandstone it is of a different colour to the original stonework.
The history notes above were written by John Blackwell