The history of 'God's acre' at Ovingdean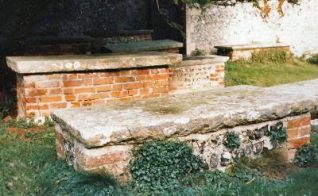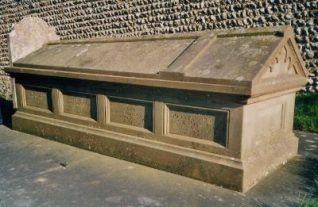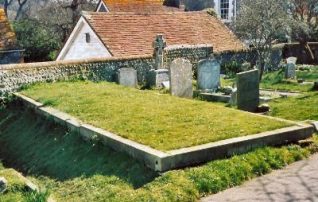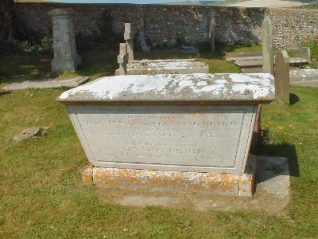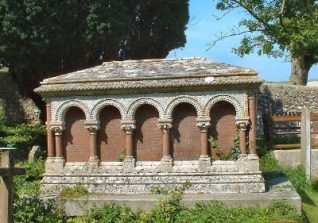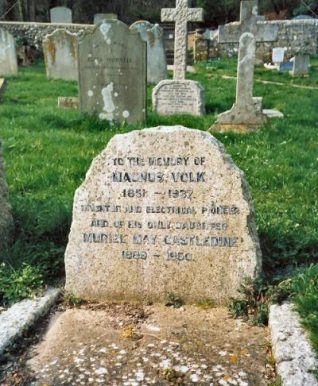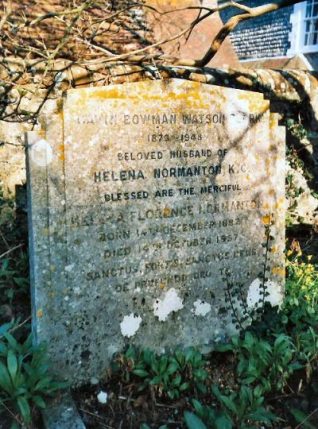 'God's acre' (the area a Welsh king prescribed for churchyards in 943 AD) is divided in Ovingdean into the 'old' and the 'new' churchyard. In the old part there are about 300 grave markers to 561 persons. We need to remember that these are only markers we can see now – others will have sunk without trace. And of course we have no way of knowing all the other persons who were buried here in antiquity.
Not all those buried in Ovingdean were parishioners; many were from Brighton, Rottingdean and elsewhere. One of the reasons for this may be that Brighton churchyard was closed to burials and gentry did not like the idea of being buried in a field (cemetery).
The earliest recorded burial
The earliest recorded burial was on the 21st December 1606; the earliest gravestone is from 29th November 1671. Gravestones only generally became popular after the Reformation but only the rich could afford them.
Burials will have taken place in the churchyard from approximately the 10th century. Nearly all burials would have been in the churchyard but we know that a number of persons were buried within the church. Gentry paid for this privilege because it more or less guaranteed that their remains would not be disturbed. In fact a large number of bones were found 3ft deep when the vestry was being built and these were consequently interred.
Changing longevity
The 1850s saw a change in health regulations and so interments in the body of the church were discontinued. In 1956 the new churchyard was opened up. When we look at the ages at death within the churchyard there is a striking increase in longevity over the centuries. Looking at the period 1650-1900, we can see that at first only 20% of people lived to the age of sixty. By the 1900s that increased to 60% and of course this figure is greatly increased this century. The number of people dying before the age of 40 years has decreased from 30% to 13%. As a point of interest, there is a 'Table of fees' for burials – which is in the vestry. In 1806 a 'common grave' (used for workers/servants etc) cost £1.0s.0d. – a grave lined with brick or stone (gentry) cost £3.13s.6d. By this time burials within the church were no longer allowed because of new health regulations instituted in the 1850s.
Influential people
Below you can read about some of the interesting and influential people who were buried in St. Wulfran's churchyard.
The Geere family
The Geeres were a very important Ovingdean family. Thomas Geere took over Grange Farm c1600; he was followed by his son and grandson. The family farmed in the village for 95 years. They were very closely involved in the life of St. Wulfran's church and probably one or another of them was a churchwarden during the years 1609-1690. Mercy Geere's gravestone is the earliest visible gravestone. She was Thomas Geere's wife who died in 1671 at the age of 41 years
Nathaniel Kemp
Nathaniel Kemp bought an estate of 349 acres in the middle of Ovingdean parish in 1788. In 1792 he built Ovingdean House (later Ovingdean Hall). In 1821 his wife died without children and in 1823 he married for the second time. He was 64 and his new wife was 27. Between 1824 and 1837 he sired seven children; the last when he was 77 years old. He died in 1843 at Ovingdean. Nathaniel Kemp was a churchwarden at St. Wulfran's for 20 years. His fifth son and youngest child, Charles Eamer Kempe (St. Wulfran's stained glass windows) is also buried here.
The Marshall family
The Revd John Marshall died in 1835 aged 62 years, having been Rector of Ovingdean for 31 years. John Marshall, who was a wealthy man in his own right was responsible for a great deal of restoration in St. Wulfran's and was a well respected member of the community. In 1805 he built the present Georgian house which was then the Rectory. He also built Rectory Cottage (c1825) for his son, John William Henry who acted as Curate and succeeded his father to the living in 1835. Tragically John William Henry committed suicide in March 1841, leaving a wife three daughters and a son. There is a very large memorial plaque to the Marshall family in St. Wulfran's church.
The Beard family
There were two Steyning Beards closely involved with Ovingdean. Beard (Senior) who was born in 1808. He lived in the Grange and farmed Grange Farm from 1830-1855. Steyning Beard (Junior) lived from 1845 till 1909 and also farmed in Ovingdean – for a time with his brother George Humphrey Beard. He also lived in the Grange in the years c1845-1860. The Beards were very wealthy family who had farming relatives in Rottingdean. Steyning (Senior) was a churchwarden for seven years. He died in 1855 and was buried in Ovingdean: four more Beards were buried after him.
The Jex-Blake family
The Jex-Blakes were a wealthy and very academic family. Sophia Jex-Blake who is noted on this monument is actually not buried in Ovingdean but in Rotherfield. She was born in Hastings but as a young girl lived with her family in 13 Sussex Square, Brighton. Sophia was a brilliant scholar who desperately wanted to be a doctor. But in the 1860s that was not seen as a suitable vocation for a woman. After a long and bitter battle to gain her qualifications to practice, Sophia founded the London School of Medicine for Women in 1874. In 1886 she began a similar school in Edinburgh and also started a hospital for women and children. She died in Rotherfield in 1912 at the age of 72 years.
Magnus Volk
Magnus Volk was born in Western Road Brighton in 1851 – he invented many strange things. He is of course best remembered for Volks Railway which still operates in Brighton. It opened in 1883 and was the world's first publicly operated electric railway. Originally the track ran on stilts ten to twenty feet high and so it was a much more thrilling ride that it is today! In 1896 Volks extended his railway – it took passengers out to sea by 50-100yds. Because of its rather strange appearance it was nicknamed the 'Daddy Long Legs' and was a well visited novelty. Volk worked on Brighton Clock Tower in 1887 providing a mechanism which hydraulically lifted a rather large ball to the top. On the hour the ball used to drop down. It was removed because local residents complained about the terrible noise it made – it was also ruining the foundations of the structure!
Helena Normanton Q.C.
Helena Normanton was one of this country's first women barristers and a great campaigner for women's rights. Her family moved to Brighton in 1886 when she was just four. Helena went to school at what is now Varndean College. She trained initially as a teacher but then studied law and was called to the Bar in 1922. She was the first woman to practice as a barrister, notably at the Old Bailey as criminal defence lawyer. Helena Normanton campaigned and won the right to use her maiden name in her practice – it was unknown then for women not to adopt their married name. She also outraged the married matrons of the time by suggesting that if a woman saved money out of her housekeeping then it was hers to keep. She even suggested they might spend it on cigarettes! Helena Normanton maintained her links with Brighton all her life. She was the first benefactor to donate funds for the establishment of the University of Sussex. In 1999 a portfolio of shares was passed to the university on the death of her one of her relatives – it was worth in excess of £400,000.