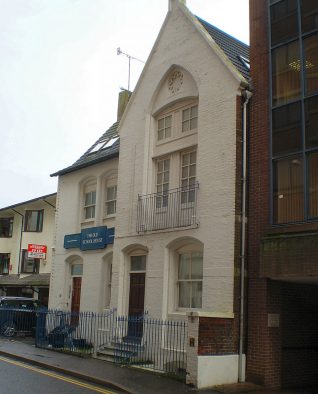 Situated in former church school
I remember well the early days of the Youth Club. Being a member of the church choir I usually knew what was happening around the church. The year would probably have been 1953, and the vicar was Rev. D.M.Ivor Walters. He knew a lady named Christina Threlkeld, and she was persuaded to get the Youth Club up and running. The club met in a former church school in Frederick Place. The school had closed in 1944, and the building had since then become a rather dingy and depressing place. The 1938 photograph was exactly how I remember it in the 1950s. This building was being used by the church and the large upstairs room was considered just right for the youth club.
Team games and dancing
The club met on Saturday evenings. There was a table tennis table and two small billiard tables. These and various team games took place before 9pm when dancing took over. There was a large radiogram and a big collection of Victor Sylvester dance records. Many of us learned to dance there, and occasionally there were people to teach us the steps. Every week I staggered down there with my collection of 78s including all of the Bill Haley hits, Fats Domino, Elvis and Guy Mitchell  & Frankie Laine; I still have them to this day. In addition to ballroom dancing and jiving, country dancing was a regular pursuit. I remember the Virginia Reel, Gay Gordons, Tennessee Wigwalk & Dashing White Sergeant. It was great fun.
Youth Club rambles
When Father Walters left he was replaced by Father Walker who was also very supportive. Mrs Threlkeld left after about a year, and the club was run jointly by Bob Minton and Tony Humphrey. On bank holidays many of us from the club used to meet in Pool Valley and catch a bus out into the country for a Youth Club ramble. These were very popular, good fun and well supported.
Relocated in the late 1950s
In about 1958 the building was sold and the Youth Club was relocated to the Church Hall of the Church of the Good Shepherd in Dyke Road. Although this had the effect of bringing more members, most of them were based locally, and after a year the club eventually folded. Most of the original members were now older and had moved on and so the St. Nicholas connection was lost. Recently the building has been converted into flats. If one walks along Frederick Place today it is the only building still existing from the 1950s.
Do you remember the St Nicholas Youth Club? When did you go there and what do you remember about it? Please share your memories by posting a comment below.