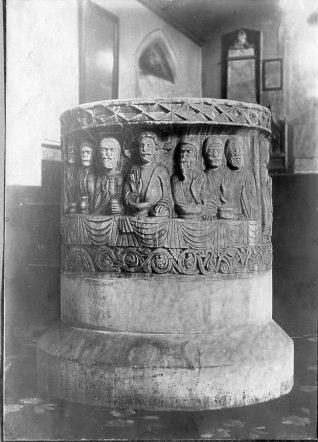 Please note that this text is an extract from a reference work written in 1990.  As a result, some of the content may not reflect recent research, changes and events.
d) The NORMAN FONT: The church's greatest treasure, however, is the Norman font which stands in the south aisle. It was probably carved in the early twelfth century from a single block of Caen stone, and has three decorated bands; the central band has panels depicting Christ's baptism, the Last Supper and two scenes from the life of St Nicholas. The font's origin is a mystery as it predates the church, but it is possible that it came from the earlier Brighton church mentioned in Domesday. In the 1740s two church-wardens had the sculpture partly recut, and they also carved their names in the base which was replaced in the nineteenth century.
Any numerical cross-references in the text above refer to resources in the Sources and Bibliography section of the Encyclopaedia of Brighton by Tim Carder.