Who is buried in St Nicholas Churchyard?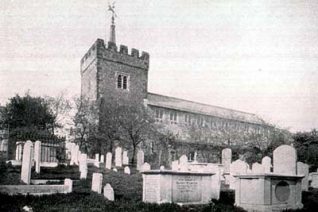 From a private collection
The lives of the diverse characters buried in St Nicholas Churchyard tell a classic tale of Brighton. Here lie the remains of many notable individuals associated with the Regency era, including some rather unconventional women.
Martha Gunn, Phoebe Hessel and Anna Maria Crouch
Martha Gunn  1776-1815, was famous as the "Queen of Dippers", helping fashionable ladies in and out of the sea from their bathing machines. Phoebe Hessle 1713-1821, pretended to be a man in order to serve as a soldier and be with her lover. Both lived to a robust age unlike the much lamented actress Anna Maria Crouch (1763-1805) who died at 42 either from a carriage accident or from heavy drinking.
Sake Deen Mohammed
It was not only women who achieved remarkable longevity for their times. Sake Deen Mohammed lived to be 102. He was the owner of baths much frequented by high society in Regency times and liked to be known as the "Shampooing surgeon to King George IV". The baths were situated at the site of the Queens Hotel on the corner of East Street.
Captain Nicholas Tettersell
Other well-known men buried here were also connected wth property. Captain Nicholas Tettersell was the owner of the Old Ship Hotel which he bought with money from a grateful King Charles II. The captain had helped the King to escape to France in 1651 after the Battle of Worcester.
Together with Charles Augustus Busby, the architect Amon Wilds designed much of Regency Brighton.