Childrens' film shows in the 1950s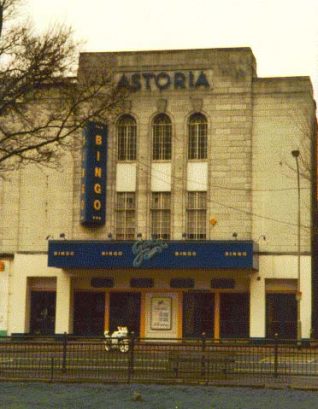 From the 'My Brighton' CD
ABC Minors
Like so many other kids in the pre-TV age I went there every Saturday morning between about 1957 and 1963 for the wonderful ABC Minors children's film shows.The shows commenced with a singalong to various pub standards – 'My Old Man Said Follow The Van', etc. – accompanied by bouncing-ball prompt on screen. This invariably culminated with 'We Are The ABC Minors' sung to the tune of a well-known military march whose title escapes me (anybody?).
There then followed a cartoon – Bugs Bunny, Tom and Jerry, etc. – a short Pathe Pictorial documentary and a serial. The latter were the classic pre-war black-and-white cliffhangers and I particularly recall Zorro, Batman (pre-Robin) and Flash Gordon. After the interval there came a feature film, often in monochrome but occasionally, and excitingly, in colour. Examples were "The Legion's Last Patrol" with Alan Ladd, "The Alamo" with John Wayne and the various Sinbad adventures.
The whole programme started at 9am and finished at midday. Entrance was sixpence for the stalls and ninepence for the circle (old money, of course). My mother would give me a shilling (5p) to pay for entrance (6d), a Lyon's ice lolly (3d) and bus fare on the 26 trolley between St Saviour's and St Peter's (three-halfpence each way). Sometimes I'd walk and use the saved bus fares to pay for admission to the circle. The kids in the circle would often drop their ice-lolly sticks and other sticky objects on the kids below in the stalls, and I must admit to occasionally succumbing to the temptation to do the same.
2001: a Space Odyssey
My other abiding memory of the Astoria was going to see '2001: a Space Odyssey' on its first release in 1968, shortly before I left for university in Bath. This brilliant psychedelic movie on the huge screen, the soundtrack booming through the massive speakers, left an impression on me that has never faded, and it remains my favourite film to this day. I recall walking home still trying to fathom out what the ending was about.
Lone Survivor
Not long after this the inevitable conversion to a bingo hall followed, and that was that for the Astoria. I read recently that of the fifteen purpose-built cinemas or coverted theatres remaining in Brighton and Hove in the fifties, only one – The Duke of York's – is still extant, having survived as an art-house movie venue. Long may it remain so, as a reminder of a happy cinema-going age long gone.