Cannon Cinema, East Street and Grand Junction Road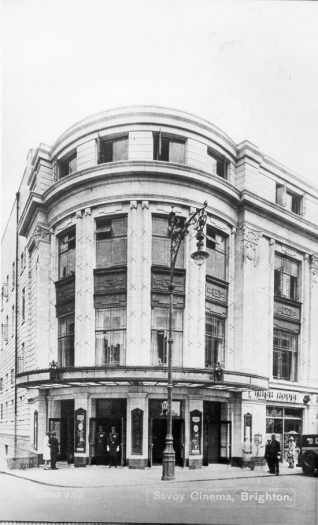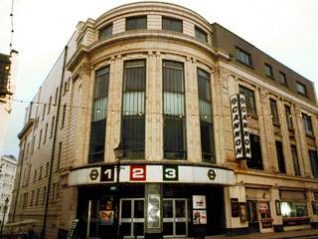 Please note that this text is an extract from a reference work written in 1990.  As a result, some of the content may not reflect recent research, changes and events.
The Cannon Cinema was originally opened on 1 August 1930, on the site of Brill's Baths, by Associated British Cinemas as the Savoy Cinema-Theatre, a massive building faced with glazed cream terracotta tiles and decorated with Corinthian pilasters; the facades in Grand Junction Road and East Street, with their emphasis on geometric forms, are typical of the Art Deco style of the era. Seating 2,300 people and costing £200,000, it was the first serious rival to the Regent and included two restaurants, two cafes, and a large basement car-park for 300 cars among its facilities. The magnificent interior was fitted out in Japanese style by architect William Glen. The name was changed to the ABC in 1963, but with a significant change in cinema-going habits it was divided into four smaller auditoria from November 1975, the former circle becoming the ABC 1. Reopened by the mayor, William Clarke, on 3 April 1976, the ABC lost much of its elaborate decoration in the conversion. In 1986 the ABC chain was acquired by Cannon Cinemas Ltd, and Brighton's ABC was subsequently renamed the Cannon. From 21 to 25 May 1987 the Cannon played host, jointly with the Odeon, to the first Brighton Film Festival; the second was held on 8-10 September 1989.
Cannon Cinemas have also purchased the eight-screen complex due to open at the Marina in March 1991, leaving the older cinema's future in some doubt.
Any numerical cross-references in the text above refer to resources in the Sources and Bibliography section of the Encyclopaedia of Brighton by Tim Carder.
The following resource(s)is quoted as a general source for the information above: {68,68a,123}