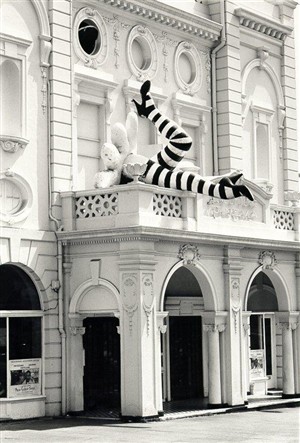 Royal Pavilion and Museums Brighton and Hove
A family concern
I have special memories of the Duke of York's; I especially remember Aunty Mabel and Tom. In the 1950s and 1960s, Mabel worked mostly in the box office and Tom did most of the cleaning. My Mum, Joan Wells, worked in the Duke of York's as an usherette for many years. My brother Malcolm worked in the projectionist's booth after school and on Saturdays. My Dad repaired the seats and sometimes subcontracted the work to me; at a shilling a seat. I also worked in The Chocolate Box on a Saturday morning.
Did you go to the Duke of York's at this time?  If you can share your memories or views with us, please leave a comment below.
My mum's funny stories
My Mum had many funny stories about the cinema. She told me that whilst a desert 3D movie was showing, she had a woman sitting in the front row who complained that the camels in the movie were kicking sand into her face, and wanted her money back! There were special double seats in the back row and all manner of amorous things took place in them. I have heard that The Dukes is the longest continuously running commercial cinema in the UK; I wonder if that is true?