Orginally a 19th century theatre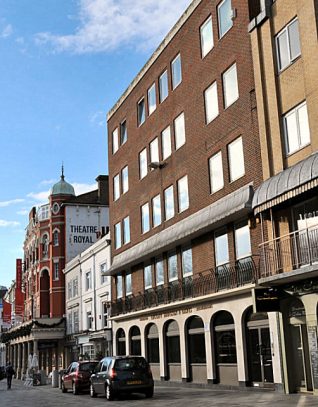 A Music Hall venue
The Paris cinema which was situated in New Road, had originally had been a theatre which was destroyed in a fire at the end of the 19th century. It was reconstructed after the fire and named the Empire Theatre of Varieties. At the beginning of the 20th century it became the Coliseum Theatre and hosted music hall shows.
A cinema in 1909
In 1909 cinema equipment was installed in the theatre, and the building was renamed the Court Cinema. The cinema changed hands several times before it closed in 1940 due to WWII. After WWII it was acquired by the Theatre Royal Brighton who leased out the building, and it operated once more as a theatre.
Falling audiences in the 1950s
In 1955, with falling audience numbers, the lessee J. Baxter Somerville, introduced foreign films in an attempt to keep it open and it became the Paris Continental Cinema. Unfortunately this scheme did not succeed and despite a campaign to save it, which was fronted by celebrated thespians like Laurence Oliver and Ralph Richardson, the Paris reverted to its landlords the Theatre Royal.
Closed in 1963
Permission was subsequently obtained by developers for demolition, and the Paris was closed in 1963. As can be seen by the 'now' photograph, the relentlessly bland office block which stands on the site today is a very poor substitute for its predecessor.