The founding of the 50-plus club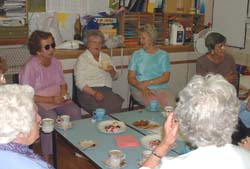 12 years ago we were talking that despite the fact that we remained there for families and parents etcetera, there were a large number of people, elderly people, who lived on the estate for many, many years but they didn't feel any sort of comradeship with us. They didn't feel as if anyone was interested in them and I thought that was a shame, it would be nice to get them on board.
That generation, they had the war and everything and they didn't really have much recreation time; most of them started work young and worked through their lives. We thought well we've got all these facilities here which is not doing anything on a Friday afternoon and that's where this particular group came from.