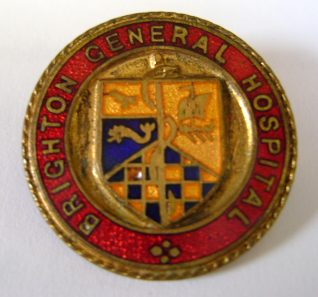 From the prive collection of Kenneth Ross
This is a photograph of the hospital badge given to those nurses who completed the three years training and passed the state and hospital final examinations. The badge was in addition to the State Registered Badge issued by the General Nursing Council, and in fact it was often worn with more pride than the state badge. This particular badge represents the close bond that grew with one's training school during the three years at the hospital.
A way to keep in touch
It replaced the old Municipal Hospital badge given to the nurses who trained in the early years before it became the Brighton General. For more information about reuinions etc., photographs, anecdotes and memories of the hospital and its nurses from the late 40's to the 70's go to:  www.communigate.co.uk/sussex/brightongeneralsrn
More information
If anyone would like more information about the site and reunions, please leave a comment below. If you want me to contact you, please put your email contact in the message itself otherwise it will not show.