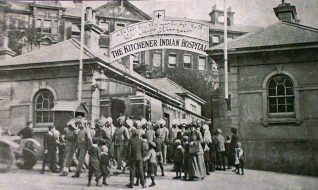 Many buildings in the City were converted to accommodate wounded soldiers during the First World War. The Royal Pavilion, the Corn Exchange and the Dome were all transformed into Indian Military hospitals. The Corn Exchange ceased to be a corn market in August 1914. The Work House in Elm Grove, renamed Kitchener General Indian Hospital (photo above), now Brighton General Hospital, was converted into a 2000 bed Indian Military training hospital. York Place School was converted into a hospital specially adapted for the Indian wounded soldiers.
Other Military Hospitals in Brighton & Hove receiving wounded British and Dominion Troops were:
– Brighton Hove & Sussex VI Form College on Dyke Road: converted into a 520 bed Military hospital to receive Dominion troops in February 1915
– Howard House and 2 houses in Sussex Square
– 5 Eastern Terrace and a number of houses in Kemptown collectively known as The Kemptown Hospital
– No 6 Third Ave Hove: 40 beds plus an operating theatre
– Royal Sussex County Hospital: 100 beds
– Hove Dispensary: 20 beds
– French Convalescent Home: 80 beds
– 38 Adelaide Crescent Hove: 20 beds.
Over 12,000 Indian wounded soldiers were admitted to the Brighton Hospitals. If soldiers were wounded in battle and could not get back to their trench or unit on their own, they had to wait until nightfall before they could be rescued and brought out by stretcher bearers or colleagues. They were then taken to one of six hospital trains which could carry up to 400 patients at a time, each train having the facilities to carry out treatment and operations on board. These trains transported the injured soldiers to the ports of Boulogne or Le Havre where they boarded hospital ships to the south coast of England from where they went by train to Brighton Rail Station.
Arrival of wounded Indian soldiers
The Brighton Gazette on Monday 14th December 1914 reported the first arrival at Brighton Railway Station of wounded Indian soldiers headed for the Pavilion and York Place Hospitals. A week later the Gazette again reported the arrival of wounded Indian soldiers and it seems that the whole town was ready to receive them. The train was met by the Chief Constable, the Mayor, the Red Cross and St. John's Ambulance. 345 patients arrived, 160 of whom were stretcher cases. A number were carried by motor ambulance and others were walking wounded.
Crowds had gathered in the rain along the route from Brighton Railway Station to the Royal Pavilion, and they stood and cheered these brave Indian soldiers straight from the front line who had come to England's aid in time of need. Now the people of Brighton could show their affectionate gratitude to these 'Sons of the East'.