Patronised by family and friends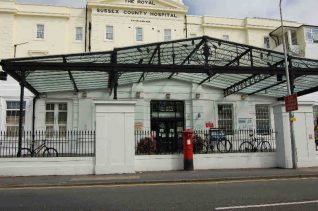 This very large hospital on Eastern Road has inadvertently been patronised by family and friends for much of my lifetime. Gone are some of the smaller hospitals of Brighton, such as the Maternity Hospital near Brighton Station, and the Ear Nose and Throat Hospital on Church Street.
My first encounter with the Sussex County was when I visited my mother after her appenectomy, then my younger brother after he suffered concussion in a collision with a bicycle outside his school in Harrington Road. Many years later, I visited my father during his final illness in the hospital.
The hospital has changed a great deal over the half century I have visited it (I haven't yet been an in-patient, though spent a few weeks in Guys in London more recently!), and I have always been impressed by the cheerfulness of the nursing and other staff.