Nurses photographed in 1952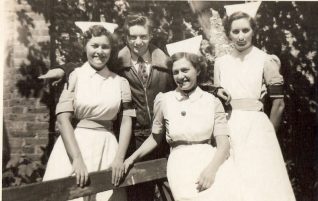 From the private collection of Kenneth Ross
This photograph was taken in the small garden that used to be at the rear of the operating theatres. The two nurses I can name in the photographs with me are Dalby and King, this was about May 1952.
I worked as a volunteer at the County for over two and a half years from 1949-1952, mainly on Vallance Ward when Sister Tooky was in charge. As time passed I worked on many of the wards, particularly in the evenings, packing the dressing drums for autoclaving.
If there are any ex-RSCH nurses from that time and into the later 1950s and 1960s, please do share your memories by posting a comment below.
Click on the photographs to open a large version in a new window.