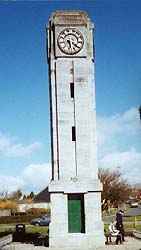 "Born during the war, I lived in Ladies Mile Road. From my bedroom I looked straight on to the Clock Tower and its surrounding triangle of grass.
In my childhood we all relied on the clock and were delighted when the floodlights were installed after the war, as I could then see the time when laying in bed.
All of the local buses stopped here.
During my early childhood I would spend time with the drivers and conductors of the number 15b buses which terminated at this point, before their return journey to Mile Oak.
I remember in 1947, the first new B & H District Bristol K bus purchased after the war, being tested on the number 5 route, standing at the Clock Tower with the chain around the platform to prevent passengers boarding.
From this point local organisations departed on their outings. The football team 'Vale Rovers' would hire a Southdown coach to take the team with supporters on a Saturday afternoon to away matches, at such venues as East Brighton Park, a journey of about 5 miles.
The Covenanters Group
I belonged to the 'Covenanters' group. We would assemble and cycle to such places as Hurstpierpoint, and also go to a 'Sausage Sizzle' on a Saturday summer evening on the land above the Patcham Tunnel vent shaft adjacent to Mill Hill."