Formerly the Sports Stadium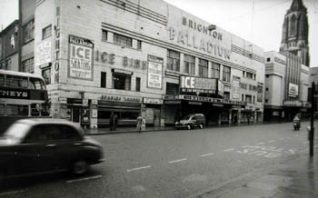 From the private collection of Trevor Chepstow
In September 1959, Mr Nicholas van Slocham became the new owner of the Sports Stadium and promptly changed its name to the "Brighton Palladium".
Mr Benny Lee was retained as the manager and continued the rink's policy of providing skating facilities for the various clubs.
For the first time pop shows were introduced to the "Brighton Palladium" which included the likes of Cliff Richard, Lonnie Donogan and Petula Clark to mention a few. This also included wrestling which was a big hit on television and many of the famous TV wrestling stars appeared at rink.
And back again to Sports Stadium
Due to the popularity of television and falling attendance the rink was forced to change hands again in 1962 and the name was changed back to the "Sports Stadium". Ironic, as television selected the Sports Stadium in 1952 as the venue of its first-ever outside broadcast from Southern England, with Tom Arnold's "Ice Circus".
A new company was formed with Mr Benny Lee becoming managing director again. Staunchly he kept the "Brighton Tigers" going at a time when ice hockey was on the wane in the country, but changing tastes forced him to give up large scale ice shows. 1964 was the first summer for eighteen years in which no lavish show was produced at the rink. The rink was eventually closed the following year in October 1965, thirty five years after its initial opening.