In Union Street, opposite The Level's north end, is a  wrought iron gate which is permanently locked and apparently unused. Either side of the gate are two large pillars on which stand lion statues. The entrance has the air of genteel poverty, a sad reminder of past glory days, which indeed they are. The image below and accompanying text illustrate the original gardens and also the entertainments which were available there.
Brighton's increasing popularity
This was the site, in 1823, of Ireland's Pleasure Gardens, also referred to as the Royal Pleasure Gardens, as it was 'under the immediate patronage of His Majesty'. This splendid place of entertainment was built on a 10acre site purchased from Thomas Read Kemp. The owner James Ireland, was a wealthy businessman, who hoped that Brighton's increasing popularity as 'the place to be' would ensure the success of his venture.
Building development in the 1840s
Unfortunately for Ireland, this was not to be, disenchanted with his project he sold it in 1826. Eventually, after the further decline of the business, the gardens were closed in the 1840s. In 1849 work commenced on the development of a horseshoe-shaped, three-part terrace of houses designed and built by Amon Henry Wilds. The residents of these houses in Park Crescent today, can still enjoy the extensive gardens.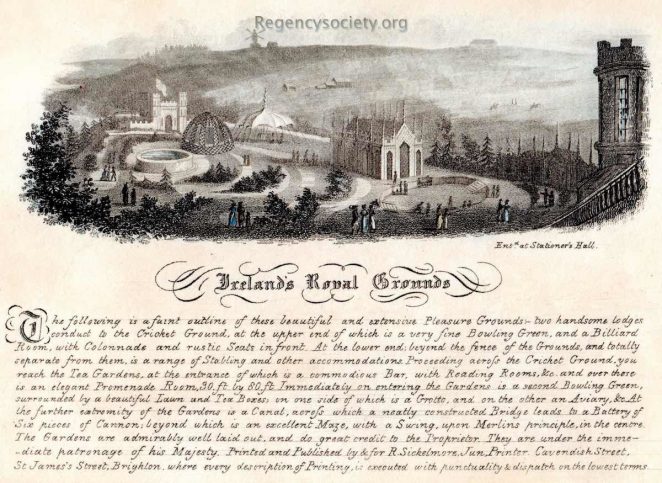 Transcription of the above text
The following is a faint outline of these beautiful and extensive Pleasure Grounds – two handsome lodges conduct to the Cricket Ground, at the upper end of which is a very fine Bowling Green, and a Billiard Room, with Colonnade and rustic Seats in front. At the lower end and beyond the fence of the Grounds, and totally separate from them, is a range of stabling and other accommodations. Proceeding across the Cricket Ground, you reach the Tea Gardens, at the entrance of which is a commodious Bar, with Reading Rooms, Etc., and over these is an elegant Promenade Room 30 ft by 80 ft. Immediately on entering the Gardens is a second Bowling Green, surrounded by a beautiful lawn and Tea Boxes, on one side of which is a Grotto, and on the other side an Aviary etc. At the further extremity of the Gardens is a Canal, across which a neatly constructed Bridge leads to a Battery of six pieces of Cannon, beyond which is an excellent Maze, with a Swing, upon Merlin's principle, in the centre. The Gardens are admirably well laid out and do great credit to the Proprietor. They are under the immediate patronage of His Majesty.
Reproduced with permission; The Regency Society &The Society of Brighton Print Collectors