The Syd Dean Band: family memories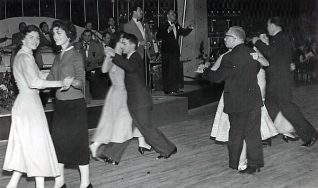 From a private collection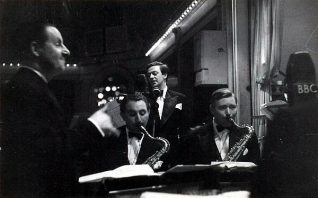 From a private collection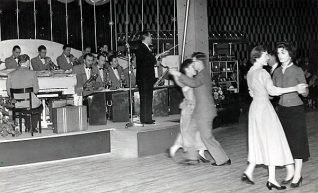 From a private collection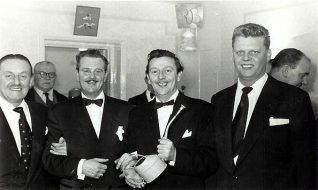 From a private collection
My father, Harry Bolton, was a member of the Syd Dean band for 11 years. He joined when he was demobbed from the army after the war in about 1946 or 1947 as 3rd trumpet and the vocalist. He was well loved for his impression of Phil Harris's 'Dark Town Poker Club' and 'That's What I Like About The South'. Jill Day was the resident female vocalist, followed by Vicky Anderson.
When the Regent closed, my dad came to Leeds to join the Johny Woollerston orchestra at the Majestic Ballroom in Leeds, Johnny having also been a member of the Syd Dean band as lead trumpet player. It was in Leeds that my Mum and Dad married and my younger brother and I were born and brought up. My Mum is from Brighton which is where they met.
My mother is still alive and is giving me all this information as I type so you can be sure it is correct.
I see from the responses on the website there has been some confusion over the manager Lionel. I can confirm that Lionel Stewart was the manager of the ballroom until he retired in the mid 50s. He was a Jewish gentleman, kindly and loved by everyone. After Lionel retired, a new manager took over called Ray Taylor.
As far as my Mum know's there is one member of the band still alive called 'Frankie Ireland' who was a saxaphone player. He is now 84 and living in Ireland. Sammy Bryant played drums with the band for a while, his widow lives in Hove and she would love to meet up with anyone who would want to talk about the Regent days.
Other bands used to visit Brighton on a Monday night and played at the Aquarium ballroom. The Regent very rarely had visiting bands. It also happened that on a Monday night, it was old time night at the Regent, therefore Syd Dean's band had the night off, so they all went off to the Aquarium to watch the visiting band. This included people such as Ted Heath, Squadanaires, Eric Galloway, Edmundo Ross and many many more. The biggest attraction was always Ted Heath.
At the time my father was in the band, this was the line up:
Piano – Frank Harlow
Double Bass – Fred Craig
1st Trumpet – Johnny Woollerston
2nd Trumpet – Ronnie Simms
3rd Trumpet/vocalist – Harry Bolton
Drums – Sammy Byant
Saxaphone – Stan Vickers, Les Williams, Johnny Nicholls, and Rufus *
Trombone – Billy Richards, Eric Noble.
* When Rufus sadly died, Frankie Ireland took his place.
I recently found a great website of a guy that collect 78s and is now selling them. He had two 78s of the Syd Dean band with my Dad singing, both solo and with Jill Day. He transferred these onto CD for me, which is fantastic, as I have been able to listen to my Dad with the band for the first time and it brought back some lovely memories for my Mum. I have attached some photos of the band. I will sign off for now, but if anyone wants more info, feel free to get in touch.