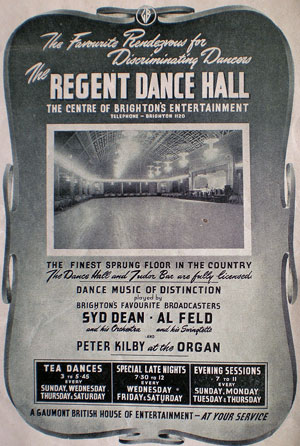 From the private collection of Trevor Chepstow
This advertisement recently came to light in a 1952 ice show programme (Sports Stadium) and shows the massive dance floor at the Regent Ballroom. I believe the sprung dance floor was made from Canadian Maple and when the floor was full to capacity the effect was bouncy to say the least.
When the building was demolished the dance floor was sold off and some of it ended up as flooring for one of the church halls in Patcham. So, if nothing else, a part of the Regent Ballroom lives on today in the town!
Both Syd Dean and Alf Feld were popular bandleaders at the Regent and well known throughout the town. Alf Feld eventually became an hotelier and bought the Norfolk Hotel on Kings Road. He went on to become Mayor of Brighton and was a familiar sight travelling around Brighton in his white Rolls Royce.