Happy memories of the 1950/60s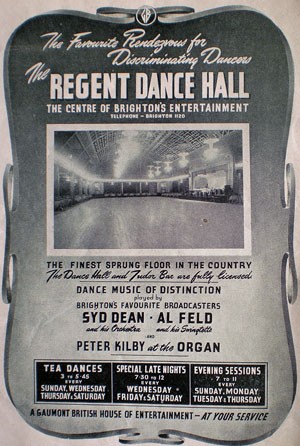 From the private collection of Trevor Chepstow
First real go at dancing
My friends and I used to go to the Regent Ballroom at least twice a week and then to the Sunday afternoon tea dances during the 1950s and early 1960s. After having had lessons, my first real go at dancing, outside the school, was at the Regent. It took me nearly two hours plucking up the courage to ask a girl to dance, or should I say shuffle round the floor? It used to be too packed to dance unless you got onto the floor at the very start of the dance number.
Nat Gonella and Syd Dean
It was also here that I heard Nat Gonella and his group; at the time his was the band that filled in whilst Syd Dean had a break. It was sad to think that Nat was at one time one of the great band leaders in the UK, and then was reduced to just filling in. I also spent many a New Years Eve at the Regent.
Nostalgic New Year
I remember one particular New Year. It was 1957 and I had just arrived at a RAF station. Not knowing anyone, I was alone in the billet. I decided to tune into the radio to cheer myself up. The show was taking listeners around the country to many dance halls to see the New Year in. One of the places they did a broadcast from was the Regent Ballroom. I can tell you that sitting all alone in the billet, everyone else out with mates, I was one very unhappy bunny and missing all my friends, who I knew would be amongst the many at the Regent that night.
Meeting the girls
It certainly was the place to meet the girls, who used to stand in a group, known at the time rudely as the 'cattle market' waiting to be asked to dance. This was fine for us lads as they were standing up, so you could see how tall they were.  The reason I mention this, is that I once asked a girl, who was sitting at one of the tables, to dance and when she stood up turned out to be over 6ft tall. As we danced I found the only way I could see where I was going was to look under her right arm, and when not doing so my face was level with her bosom. Needless to say I was always more careful in the future.