The "dance craze": 1920s-1970s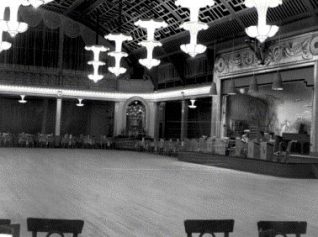 From a private collection
The dance craze in Brighton
Dancing as a major form of entertainment really took off in Brighton during the 1920s and 1930s. 'Dance' music, much of it American, was becoming popular in the years before the First World War, spread by sales of sheet music and gramophone records. However, it was in the years immediately after the war that the so-called "dance craze" took place, encouraged by the spread of American-style 'jazz' and dance bands.
In Brighton a number of dance halls were established to cater for the new demand. The most famous of these were Sherry's Dance Hall, in West Street, and the Regent Dance Hall, in Queens Road.
The opening of the Regent
The Regent Dance Hall was opened in December 1923. It was constructed in an arched superstructure on the roof of the Regent Cinema that had originally been intended to house a roof garden. Decorated in a 'jazz' style, with zigzag and square patterns painted in strong primary colours, giant lanterns in a variety of shapes, and illuminated by multicoloured lights, the dance hall made a major impression. The Brighton Herald described it as "like an artist's expression of exclamation. It is jazz in its highest development. To enter without preparation into that great new hall…is to get the effect of a rocket bursting in one's face. The hall is like an explosion of all the primary and secondary colours, flung hither and thither in a restless, intersecting criss-cross of blazing light".
Saturday nights at the Regent
The Regent could accommodate 1,500 dancers on its specially sprung floor, which they boasted was 'the finest spring dancing floor in the world'. The Regent hosted afternoon tea dances, evening dances, cabaret, dancing competitions and balls. One could also learn to dance at the Regent, which had a staff of "expert professional dancing partners for both sexes".
By the 1930s, famous dance band leaders such as Jack Hylton, Billy Cotton, Harry Leader and Henry Hall were playing at the Regent and the dance hall soon became one of the leading social venues in Brighton.
A regular visitor to the Regent in the 1930s, remembered "Saturday night at the Regent was a must for us. It was an escape from reality for thousands of shop assistants, factory workers and employees who could afford to go out only once a week."
Decline and closure of the Regent
The Regent's popularity continued during the 1940s and 1950s, as people danced to big band and swing hits played by resident band leader Syd Dean. However, changing tastes in music and dancing styles saw the Regent's popularity decline in the 1960s and in July 1967 the dance hall was closed and converted into a bingo hall. In 1974 the Regent Cinema and Dance Hall building was demolished.
Today a branch of Boots stands on the site. As local resident Arthur Clarke observed in 1984: "When the cinema and dance hall finally closed, Brighton lost the finest entertainment centre south of London. Nothing has ever replaced it."