Notes and queries: Syd Dean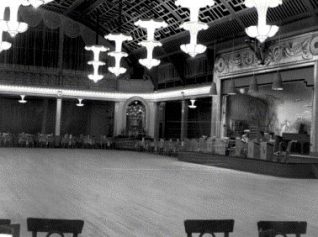 From a private collection
Submitted by Carol de Rose on 3 August, 2002
"I'm afraid I can't add any information about the place I've chosen – on the contrary, I'm seeking information and hope that there is someone connected with the site who can oblige.
I grew up in Hove in the 1950s and 60s, and my mother, who died earlier this year aged 96, spent much of her life in Brighton and Hove. She often used to talk of her times dancing at the Regent Ballroom where Syd Dean and his Band were particular favourites and I can remember hearing this band on the radio ('Music While You Work') when I was young. My partner has a relation (now in his 80s) who played in the band and I am trying to locate some archive material if there is anything available. I'm particularly interested in the era of the 40s and 50s, but would also like to know something of the ballroom before and since.
My name is Carol de Rose, I'm now in my mid fifties and I'm a secondary school teacher in East Kent.¨
Response by Pat Benham, 3 August, 2002
"My neighbour in Addison Road, Hove, Fred Haith, used to play tenor sax with Syd Dean at the Regent Ballroom. He would blow through a few scales and phrases to warm up before going out of an evening. I remember him taking me down to Tommy Barton the local Musicians' Union secretary, to sign on in 1957 (I am a guitarist). Another man I knew slightly was a kindly old gentleman called Lionel who had been an MC at the ballroom.
In the late 1970s I heard Marc Bolan with his T-Rex group and Status Quo on the same billing at the ballroom, so the place was moving with the times.
There were always advertisements for Syd Dean in the Argus and Brighton and Hove Herald, so a visit to the archives in Brighton would be worthwhile."