Rare model of the S.S. Brighton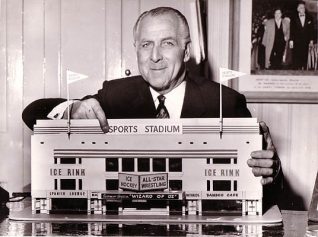 From the private collection to Trevor Chepstow
Readers of this site may be interested to know a little bit of the history of the model of the SS Brighton that Benny Lee is holding.
The architect's model of the rink original sat in Benny's office and was used in various advertising campaigns throughout its life at the rink. In its early days it was displayed in the entrance to the rink in a glass cabinet.
When the rink was demolished in 1965 the model disappeared and was presumed to be lost along with the many other items of memorabilia associated with the S.S. Brighton.
A bargain in a junk shop
Early in 1999 a contact rang me to tell me he thought he'd found a model of the old Sports Stadium, Brighton and would I go and have a look at it. Well you can imagine my surprise when the old junk shop he described turned out to be two streets directly behind the building where I live!
On arrival at the shop I couldn't believe my eyes, there was the model in virtually the same condition as it had been 35 years previously! I knew every inch of the model as I already had the photograph of Benny holding it in his office and knew it to be genuine! The problem now was how to get it and not to arouse suspicion from the dealer of its importance to me!
After much chatting with the owner about a nondescript table he had I threw a casual glance at the model and said, "that would make a lovely doll's house for my daughter" hoping to get it for a bargain price! Unfortunately the owner proceeded to tell me the whole history of the Stadium through the model, the look on my face would have told a thousand stories I'm sure!
Nevertheless I now have a very nice fifties dining table and best of all the very rare model of the Sports Stadium added to my collection. More important to me a piece of history has been saved and at some point will make a perfect centrepiece when the project is donated to the City.