Sabu, the Indian film star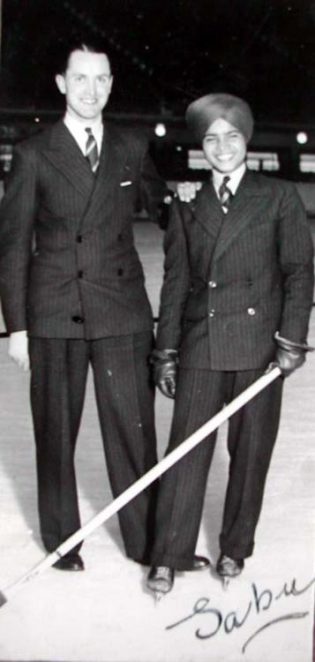 From the private collection of Trevor Chepstow
This photograph shows "Sabu" the Indian film star at the Sports Stadium Brighton in 1938. The dapper gentleman with him is the general manager John Caruana.
The fourteen year old star was a regular visitor to the rink whilst filming in England and told Mr Caruana he was "mad about speed". Later that day arrangements were made for him to race a local speed skating lad called Don Vivash three times around the rink. Unfortunately the outcome is unknown, although it's unlikely that preference was given to "Sabu" who was a very competent and competitive skater.
Sabu was born on Jan. 27, 1924, in Karapur, Mysore, in southern India. His father took over the task of raising "Sabu" when his mother died at childbirth, even teaching his elephant to rock the little boy's cradle. When his father died in 1931, Sabu was made the Maharajah's ward.
A smile as broad as the Ganges
Discovered by the noted documentary filmmaker Robert J. Flaherty, whilst searching for someone to play the lead in the film "Elephant Boy". The 11 year old Selar Shaik Sabu (Sabu's true name) was serving the Maharajah of Mysore as a "Mahout" (elephant driver) just as his father had done before him.
Filming began in the spring of 1935. Based on a tale from The Jungle Books by Rudyard Kipling, "Toomai of the Elephants" and called "Elephant Boy", The film introduced one of the most refreshing personalities to appear on the screen for many years.
Said to have a "smile as broad as the Ganges and charm enough to lure the stripes off a tiger", the young Indian became an instant star with the release of "Elephant Boy" in 1937.