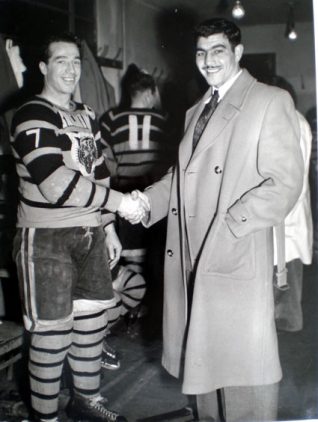 From the private collection of Trevor Chepstow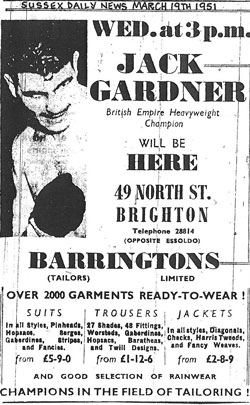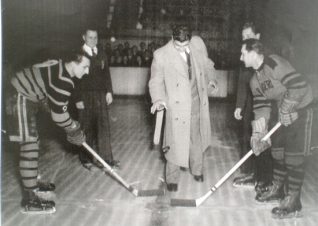 From the private collection of Trevor Chepstow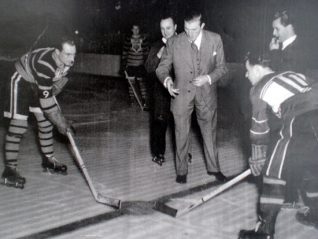 From the private collection of Trevor Chepstow
In its thirty year history the Sports Stadium proved to be a magnet for visiting personalities to Brighton.  In its heyday celebrities made a bee-line to meet and greet the most famous ice hockey team in Britain and enjoy the thrills and spills of the fastest games in the world.
Visiting celebrities on match days
On match days it was not unusual to see three or four celebrities in the VIP box cheering the team to victory.  As an added bonus on many occasions they would present the winning team with a trophy at the end of the match, much to the delight of the roaring home crowd and visiting fans!
Many of the celebrities were regular visitors to the rink and included, Charlie Chaplin, Betty Davis, Houdini and Sabu the Elephant Boy.  Sporting stars were too numerous to mention but one of the Tigers most ardent fans was local resident Tommy Farr, the Heavyweight Boxing Champion who fought Joe Louis.
Jack Gardener
Jack Gardner was born on November 6th 1926 in Market Harborough.  He was a sergeant in the Grenadier Guards when he won the Army Imperial Services and the ABA heavyweight title in 1948.  In the same year he also represented Britain in the Olympic Games held in London at Wembley Stadium.  The London games were the first to be shown on home television although few people actually owned sets in those days.
Turned professional in 1948
Gardner turned professional in November, 1948 and won his first of 13 fights inside the distance before losing to the Canadian heavyweight, Vern Escoe.  He was beaten again by Escoe in February 1950, but went on to defeat Johnny Williams in a British and Empire heavyweight title eliminator.  He then went on to take these titles from Bruce Woodcock in November, 1950.  Gardener forced the champion to retire in the 11th round. Jack was rather a slow mover but had a good left hand and this helped him to take the European title from the Austrian, Joe Weidin in March 1951.
Gardener disappointed his supporters by losing to the German, Hein Ten Hoff in September 1951, this cost him his European title.  In March 1952 he also lost his British and Empire title when he was out pointed by Johnny Williams!  Disappointed at the result he retired not long after.
A comeback in 1954
Finally in 1954-55 he made a come back and beat Johnny Williams by knocking him out in five rounds in a British and Empire title eliminator, unfortunately he was finally beaten by the Empire champion, Joe Bygraves, in the April of 1956.
Jack Gardener was a regular visitor to Brighton, his training headquarters in the town was the well known boxing gymnasium behind the 'Crown & Anchor' pub, in North Road, Preston Village. Jack Gardener died at the age of 52.