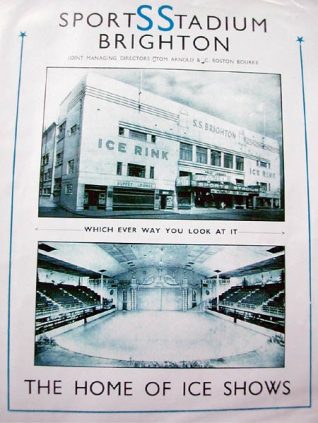 From the private collection of the late Trevor Chepstow
Where did the name come from?
In my early to mid teens, me and some friends decided to investigate the ice skating rink at the bottom of West Street, called the SS Brighton. I am not sure I ever found out why it was called that. Ice skating, and perhaps the fact that I was getting a bit older, proved to be much easier than roller skating. First, you were given a pair of proper ice skating boots and second, there is considerably more friction involved in skating over ice. 
Did you ever go ice-skating at SS Brighton? Share your memories by posting below
Spectacular falls
Every hour or so, an odd machine was driven around the rink to clear off the ice crystals on top of rink. The rejuvenated ice was much quicker to skate on after this procedure. We fairly soon got the hang of ice skating and two of us learned to speed skate. Again, every hour or so, everyone who could not speed skate was ordered off the ice and we did rapid circuits of the rink. Falls were spectacular but never, as I remembered damaging. You simply slid down the ice. I had a slight worry about whether or not anyone ever had their fingers skated over. I did once try roller skating, but it is ice skating, every time, for me.